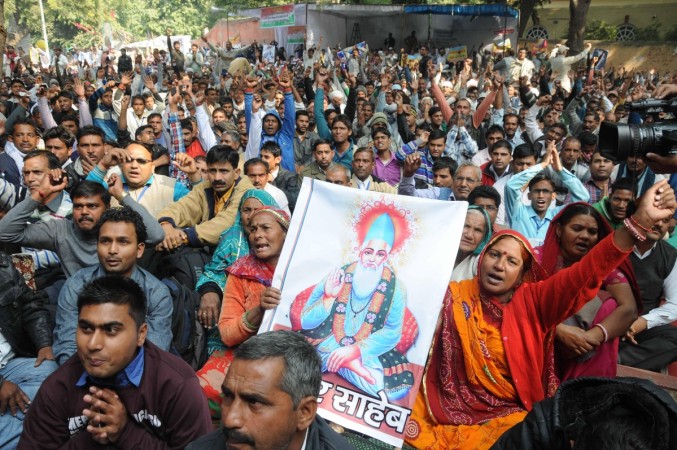 After all the drama surrounding the Sant Rampal episode, Divya Jyoti Jagriti Sansthaan's (DJJS) call for a bhandara or religious congregation on December 14, has raised a few eyebrows. The huge congregation will take place just a couple of days before Punjab & Haryana high court's deadline to cremate its founder Ashutosh Maharaj's body, reports The Times of India.
The situation could go out of hand with the presence of almost 60,000 people in the dera, even though the government officials were not willing to comment on the issue. To enter the dera and execute the court order of cremating Ashutosh's body within 15 days is a near impossible task, say sources.
Ashutosh's body has been kept in deep freeze since January. Experts have declared the dera founder clinically dead even though Ashutosh followers insist that he is in 'Samadhi'. The court had ordered on Monday that the body be cremated by a committee of senior officers of the district.
It's a case of déjà vu with the presence of such a large number of devotees at a time when court orders have to be executed - some disturbing similarities with the Satlok Ashram incident in which six people were killed.
With Rampal due to appear in court on 5 November, his followers are back inside the ashram to be used as human shields against police action, thanks to the congregation at Barwala on November 1 called by him.
DJJS however played down the bhandara as a routine affair.
"The bhandara is held every second Sunday," said Yuva Parivar Sewa Samiti (DJJS affiliate) chairman Harjinder Singh. "We are expecting 60,000 to 70,000 people this time."
Volunteers of the dera have started erecting bamboo barricades and levelling land to hold the bhandara under a big pandal. Temporary toilets are also being provided near the venue.
Harjinder Singh said that 36 dedicated followers were guarding Ashutosh in 'Samadhi' round the clock, adding that around 400 to 500 people were in the dera at any given point.
The police are using a tent outside the dera as their makeshift office. On being asked about the huge gathering of people, DSP Satish Malhotra said they had just learnt about the programme and that the dera would be contacted on the issue.
The barricades that were set up on the road leading to the campus by the dera's 'task force' had to be later removed on the insistence of the deputy commissioner.
DJJS had on Thursday filed an application before the Punjab & Haryana high court seeking directions for the postponement of Monday's orders regarding the 15-day deadline for the cremation of Ashutosh Maharaj. The organisation claims that they need 30 days to prepare an appeal against the single-bench orders. While declaring the spiritual leader dead from January 29, the High Court had also directed the state government to constitute a committee to cremate the spiritual leader and perform his last rites.