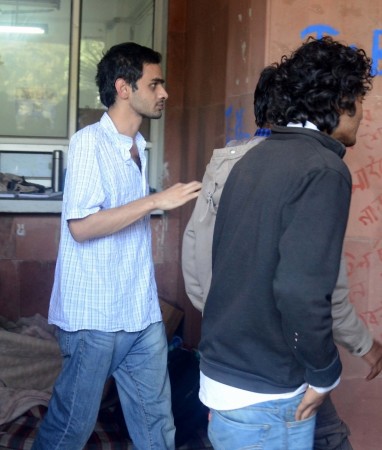 Several college students were injured after a scuffle broke out at Delhi University's Ramjas College on Wednesday, a day after Akhil Bharatiya Vidyarthi Parishad (ABVP) supporters put an end to an event where Jawaharlal Nehru University scholar Umar Khalid was supposed to speak. Umar Khalid was arrested last year for alleged seditious activities on his university campus.
On Wednesday, some students from Ramjas College and JNU, and members of All India Students' Association (AISA) were supposed to march till Maurice Nagar police station at 1 pm. However, they were stopped by a group allegedly associated with Rashtriya Swayamsevak Sangh (RSS).
A group of ABVP students reportedly tried to stop the group protesting against them near the backgate of the Arts Faculty. They threw bottles and stones at the protesting group. The police stopped the two groups from clashing further around 3 pm.
"As of now no party has filed any complaint. We do not have reports of anyone injured in the clash," Delhi Police spokesperson Dependra Pathak told HT.
While journalists from Hindustan Times and Quint also faced assault and their equipment were broken, police reportedly looked on while the 'goons' beat up students, including women.
Former Aam Aadmi Party leader Yogendra Yadav tweeted on Wednesday saying, "More disturbing report from Ramjas College, DU, today. Students locked inside college, being beaten and threatened, while police watches."
Students from Ramjas College and other Delhi University colleges have claimed that ABVP stopping the event is a breach of freedom of expression. Another JNU student Shehla Rashid's, who was supposed to speak at an event on Wednesday, event was also cancelled after the ruckus on Tuesday in Ramjas College.
Trouble began on Tuesday when ABVP members enterred Ramjas and tried to put a stop on Khalid speaking in the college by using force. Police had to intervene to break the clashes.
Bloody ABVP goons snatched a Quint journalist's phone, smashed her equipment outside Ramjas College. Where is this country headed?

— manjula narayan (@utterflea) February 22, 2017
Not just snatchd, broke it. Fantastic, India, let's keep at ths stupidity nd we can all be zombies with no brains following the Great Leader

— manjula narayan (@utterflea) February 22, 2017