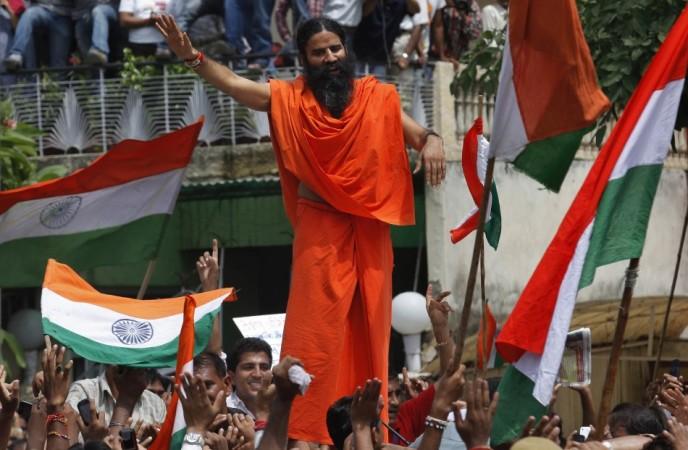 Yoga Guru Baba Ramdev, who is ending his three-day 'symbolic-fast' against issues like black money and corruption on Saturday, has threatened to intensify agitation if the government failed to respond to his demands.
Ramdev upped the ante on the last day of his protest, as he sought the government to respond to his demands by Saturday evening. In case the UPA regime fails to answer his calls, a revolution would begin from the Delhi's Ramlila Maidan itself even as the fast ends, said the Yoga guru.
Ramdev also said that the protesters will not vacate the fast venue without a "big decision" from the government. "Only after a big decision from the government, we will leave Ramlila Maidan," Economic Times quoted Ramdev as saying while addressing the crowd.
Ramdev on Thursday launched his hunger-strike at the Delhi's Ramlila Maidan amid a huge crowd gathering. His demands include the passage of a strong Lokpal Bill at the ongoing Monsoon session in the Parliament and for an independent Central Bureau of Investigation (CBI) agency and to bring back the black money stashed abroad.
The government has remained defiant as it is yet to open any communication with Ramdev over his protest.
Noting that his screams from Delhi's fast venue has failed to reach the big corridors of the UPA, the Yoga Guru warned the government to meet his demands or face a revolution in coming days.
"Government has to declare its agenda on black money, tackling corruption and system change. Our motive is not to tarnish, overthrow or insult anybody," CNN IBN quoted yoga guru as saying.
Ramdev has managed to draw a bigger crowd support for his fast. Since last two days, supporters from different parts of the country have been pouring in the fasting venue, and more people are expected to join on the last day of the agitation.