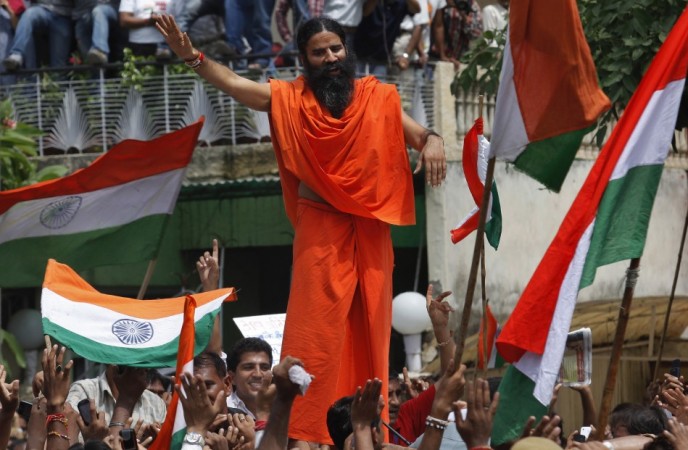 Popular Indian Yoga teacher Baba Ramdev was detained and interrogated at Heathrow Airport by British customs officials for over six hours on Friday.
There was no clarity on why Ramdev was detained at the airport but the yoga guru was reportedly questioned on the Hindi and Sanskrit books he was carrying. The customs officials are also said to have questioned him regarding the visitor visa he was carrying instead of a business visa.
Ramdev went to London to attend an event organised by the Patanjali Yogpeeth on the 120th anniversary of Swami Vivekananda.
According to some anonymous sources cited by some media reports the yoga guru was also questioned about certain medicines he was carrying with him. However, after six hours of detention Ramdev was allowed to go.
Ramdev's spoke person S.K. Tejarawala slammed the speculation that the yoga guru was questioned and instead described the incident as "baseless" adding that Ramdev was allowed to go into the city.
"It was not clear why the Yoga guru was detained for over six hours at Heathrow. He was not carrying anything with him except a small bag of personal effects. It is for the British authorities to explain why he was detained," Tejarawala told PTI.
This is not the first time that the yoga guru has been in news for wrong reasons.
In 2011, Ramdev had said that he was going for Anshan (fasting) and was also associated with the anti corruption campaign after Julian Assange, founder of Wikileaks, revealed there are many Indians who have their money in Swiss Bank.
Baba Ramdev was however attacked by the government and it was alleged that he was involved in tax evasion issues. He was also accused of exporting products that are banned in the United States.
Various media reports have claimed that the yoga teacher has been illegally grabbing lands from the farmers besides stealing electricity by using agricultural connection for commercial use.
Questions were also raised regarding the usage of animal products in the medicine used and provided by him.
Recently Baba Ramdev grabbed the limelight with his support for opposition leader Narendra Modi describing him as the "most suitable person."
VIDEO: Baba Ramdev detained for 6 hours at Heathrow Airport