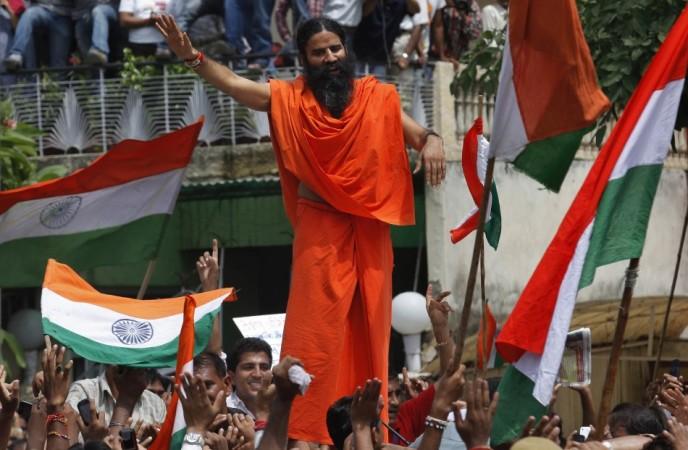 Baba Ramdev broke his fast with a glass of juice on the sixth day of the protest against black money on Tuesday as the yoga guru sets forth to leave the makeshift jail at Ambedkar stadium.
Ramdev indicated that he will be heading to Haridwar straight from Delhi stadium.
The Delhi police were in a spot after Ramdev, who was taken into preventive custody, turned his makeshift jail into a protest venue last evening. Even after police announced that he and his supporters were free to go, the group remained at the stadium, compounding more problems for the authorities.
Ramdev's march to Parliament on Monday was brought to a halt by authorities as he was not given the nod to lead the procession. He was placed into custody for allegedly violating Section-144, and his supporters were also taken into preventive custody.
The situation worsened towards the night, as Ramdev sought the government and authorities to make food and water arrangements at the stadium, considering that it was set up as a temporary jail.
Already hounded with security concerns in the national capital, authorities were not ready to let Ramdev to continue his stay at the stadium, stoked by worries of an unverified mob camping in such large numbers close to the red fort on the eve of Independence Day.
According to reports, police officials decided to evict Ramdev from the stadium if he remained defiant. He eventually accepted to call off the fast and leave the stadium.
Ramdev's 6-day fast against black money and corruption was a successful showdown. It registered a large number of supporters who packed the protest venue at Ramlila Maidan.
His protest also received support from well-known political leaders, mostly from the BJP. Former Team Anna member Kiran Bedi and retired Army Chief VK Singh were among the big personalities, who took part in the yoga guru's protest.
Ramdev's protest arena witnessed many political leaders from NDA contradicting his claims that it wasn't a political campaign. On Monday, BJP party president Nitin Gadkari and NDA convenor Sharad Yadav showed at up at the Ramlila grounds and used the protest podium to target the ruling Congress.
Meanwhile, Ramdev was also seen pitching anti-congress sentiments from the dias, saying that the government has no authority to continue at the office and he promised to defeat Congress at the next Lok Sabha elections.