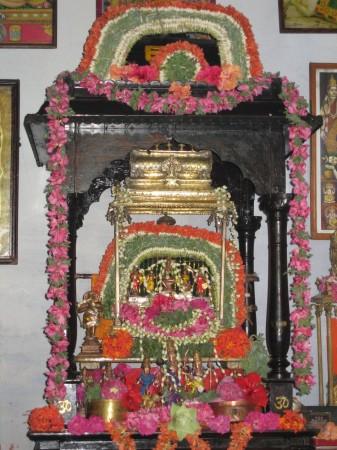 Ram Navami (Rama Navami) will be celebrated by Hindu devotees worldwide on Tuesday (8 April).
The Hindu festival commemorates the birth of Lord Rama, the seventh incarnation of Lord Vishnu, who was born to King Dasharatha and Queen Kaushalya of Ayodhya.
Lord Vishnu incarnated himself in the form of Lord Rama to destroy Ravana, according to Hindu mythology.
The auspicious occasion will be celebrated on the ninth day of Chaitra month (March-April) in the Hindu lunar calendar. Besides celebrating the birth of Lord Rama, the day is also observed as the marriage day of Rama and Sita.
Significance of Ram Navami
Lord Rama was the embodiment of truth and morality. He was a righteous king, an ideal son, an ideal husband and a loving brother. He is considered as an eternal symbol of human ideals.
Ram Navami celebrations begin on Gudi Padwa, which falls on the first day of the Chaitra month, and ends on the ninth day.
This year's Ram Navami falls on 8 April. Hindu devotees across the country will be celebrating Ram Navami by offering prayers to the Lord.
Several devotees would visit sacred places like Ayodhya, the birthplace of Rama and Rameshwaram among others to seek blessings from the Lord. They will make repeated chants of the holy name of Rama, which is known as the "Taraka Mantra."
It is said that by uttering Lord Rama's name, one can get rid of their sins and attain salvation. There is a belief that repeated chants of his name help one to attain purity, peace, joy and prosperity.
The Lord himself had said, "Repetition of My name once is equal to the repetition of one thousand names of God or to the repetition of a Mantra one thousand times," according to hindupedia.
How Ram Navami is Celebrated?
Many devotees celebrate the festival by observing fast on the auspicious occasion. Lord Rama figurines will be richly adorned and special prayers will be offered to the Lord. "Ramayana," the Hindu epic which involves the life of Lord Rama is read in temples.
Bhajans, songs and dances are performed on this day. People wear new clothes and prepare special dishes.
In south India, since the auspicious day is also considered as the marriage day of Rama and Sita, temple priests perform a wedding ceremony called "Kalyanotsavam."
On this day, devotees clean their house and decorate it with colours. They also adorn the entrance doors with mango leaves, which signify prosperity.
Devotees perform special prayers to the Lord and make dishes like Panakam (Jaggery mixed with water) and Kosambri (soaked lentles).
Greetings for Ram Navami
President Pranab Mukherjee has greeted citizens on the eve of Ram Navami.
In a press release, the President has sent a message saying, "On the auspicious occasion of Ram Navami, I convey my greetings and good wishes to all my fellow countrymen."
"Maryada Purushottam Shri Ram is the embodiment of selfless service and the highest moral and ethical principles. May the celebrations inspire us to model our lives on the life and deeds of Shri Ram. Let us strive to spread his noble message of righteous conduct and rededicate ourselves to building a great nation."
Vice President Hamid Ansari has also greeted the nation saying, "I convey my warm greetings and good wishes to the citizens of our country on the auspicious occasion of Rama Navmi. As we celebrate the birthday of Lord Rama, let us also emulate his ideals of righteousness, compassion and integrity, so that we build a just and harmonious society."
(Edited by Anu James)