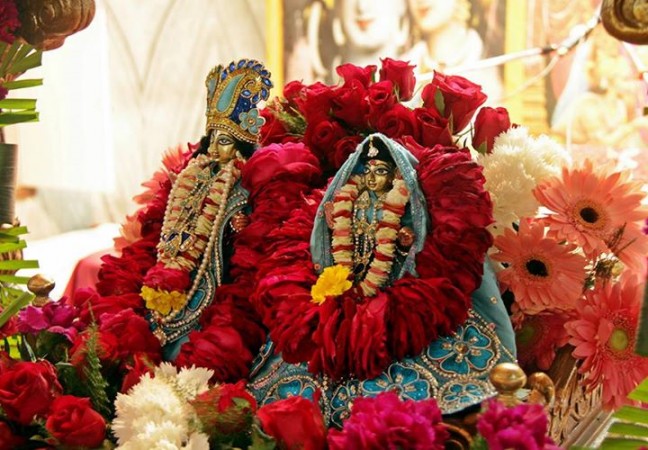 The Hindu festival of Ram Navami (Rama Navami), celebrating the birth of the Lord Rama, the seventh avatar of Vishnu, is observed on the ninth day of the Chaitra month in the Hindu calender, This year, the festival has fallen on Friday, April 15.
Lord Rama was born to King Dasharatha and Queen Kaushalya of Ayodhya. As part of the celebrations, devotees offer special prayers to Lord Rama and the epic, Ramayana, is chanted in temples. Devotees also perform bhajans, songs and dances in honour of him.
The day is believed to be the wedding anniversary of Rama and Sita in certain parts of India. Therefore, wedding ceremonies named Sitarama Kalyanam or Kalyanotsavam will be held at South Indian temples. Another highlight of the festival is preparation of Panakam, a sweet drink made with jaggery.
"On the auspicious occasion of Ram Navami, I extend greetings and best wishes to all fellow citizens. Lord Rama was an embodiment of the divine on Earth. He taught us how to live our lives in accordance with dharma. May the example of Lord Rama inspire us to follow his footsteps and strive for nobility in thought, word and deed. Let us on this day resolve to follow at all times in our lives the highest moral and ethical values [sic]," President Pranab Mukherjee wished all citizens on the eve of Ram Navami.
Listen to Ram Navami special devotional songs
Check out best wishes, messages and greetings to be shared on Rama Navami here:
May your life be filled with the blessings, happiness, prosperity and success you deserve from Lord Ram. Happy Ram Navami.
May you be blessed on the birth day of Lord Rama
Wishing you the greetings of Ram Navami.
On this holy occasion of Ram Navami,
Wishing you the blessings of Sri Ram with you now and always.
May your heart and home be filled with happiness, peace and prosperity. Happy Navami greetings.
Wishing you a very happy Ram Navami
May God bless you all with lots of happiness,
May all your wishes be accomplished. Jai Sri Ram.
May the wisdom of Lord Rama inspires you to reach your goals
Rama Navami wishes to you and your family.
I pray that your life be filled with the divine blessings of Lord Rama. Have a blessed Rama Navami.
Seek the blessings of Lord Rama for all kinds of success in your life. Happy Ram Navami.
Om Sri Ram Jai Ram Jai Jai Ram
May you be accompanied with auspiciousness and blessings of Ram Navami
--