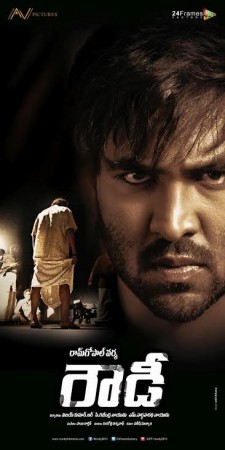 The much awaited theatrical trailer of Ram Gopal Varma's "Rowdy" was launched on Friday evening, 7 March 2013 on YouTube. The film starring Mohan Babu and his son Vishnu Manchu in lead roles is high on action.
The trailer gives the viewers a glimpse of the new avatars of the actors. Since the announcement of the movie, there has been a buzz surrounding this film and now the trailer has grabbed the attention of audiences. In less than a day, the trailer has fetched more than 80 thousand views on Youtube.
The two minute and 21 seconds trailer shows the raw appeal Manchu has in the film. Mohan Babu is seen with his natural look without his hairpiece. The trailer begins with Manchu is a fight scene, as the heroine (Shanvi Srivastava) watches him from behind. Manchu, who plays the role of Krishna in the movie, introduces himself to the heroine.
Mohan Babu's dialogue delivery in the film's trailer depicts the strong character he plays in the film. On the other hand, Manchu's heavy action sequences show his power in "Rowdy". The film which is produced by Gajendra, Parthasarathy and Vijaykumar of AV Pictures is set in the landscapes of Rayalaseema.
The film also features Jayasudha, who has been cast alongside Mohan Babu after many years. The trailer shows that apart from Mohan Babu and Vishnu Manchu, Jayasudha too has a pivotal role. However, the trailer has not given much screen presence to the heroine of the film. The background score for the film is composed by Karthik.
The trailer has got mixed opinions from audiences on YouTube. Quite a few viewers on YouTube have compared this theatrical trailer of "Rowdy" to the Hollywood movie series "The Godfather". "Looks like another one inspired from "The Godfather" in backdrop of Seema," said Premananda Reddy Yerraballi on YouTube.
Watch the trailer below:
(Edited by Vanilla Sharma)