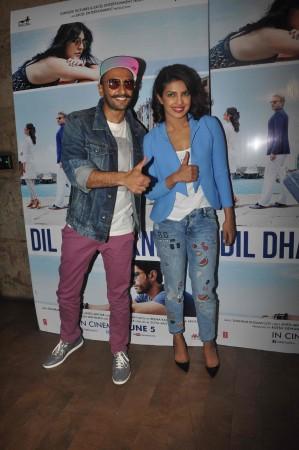 Brother-sister relationship is one of the most beautiful bonds created on earth. India celebrates 'Bhai Dooj' or 'Bhau Beej' to honour this relation every year.
This year, the auspicious festival falls on 13 November and the entire country is already in a festive mood.
The Indian film industry has made such films, which portray this beautiful relationship. Below are the films based on brother-sister bond.
"Dil Dhadakne Do"
Zoya Akhtar's "Dil Dhadakne Do" not only took us to some exotic places, but also taught us the value of relationships. The brother-sister character played by Ranveer Singh and Priyanka Chopra really melted audience's hearts. They were the rocking pair, who showed the bond between siblings and how they care for and love each other.
"Fiza"
Hrithik Roshan and Karisma Kapoor's portrayal of siblings in "Fiza" added more charm to the heart-wrenching story. The film talks about how a sister struggles to find her lost brother. But the sad part is that her only brother when found comes out as a terrorist. The journey of a sister trying to protect her brother from the bad world forces her to kill him. "Fiza" narrated an awe-inspiring story of a relationship between a brother and sister.
"Iqbal"
The story of a deaf and mute boy "Iqbal" played by Shreyas Talpade and his sister's character portrayed by Shweta Basu stole millions of hearts. The film is a story of the strong relationship of the poor siblings who help each other to achieve their dreams. The young sister fights, begs and tries every possible way to make her deaf and mute brother a cricketer. The duo did not need words to express their feelings in the film.
"Bumm Bumm Bole"
"Bumm Bumm Bole" is a remake of the Iranian film, "Children of Heaven". However, the Bollywood movie is about siblings – Pinu, played by Darsheel Safary and Rimzim, played by Ziyah Vastani. The film portrays the innocence of the brother-sister bond, which is pure and filled with love and care.
"Hare Raama Hare Krishna"
The 1971 flick "Hare Raama Hare Krishna" is one of the most emotional stories related to the relationship of a brother and sister. Dev Anand and Zeenat Aman play siblings who have been separated at a young age due to their parents' divorce. They meet after years and the brother tries all possible way to cure his drug addict sister but in the end, she commits suicide.