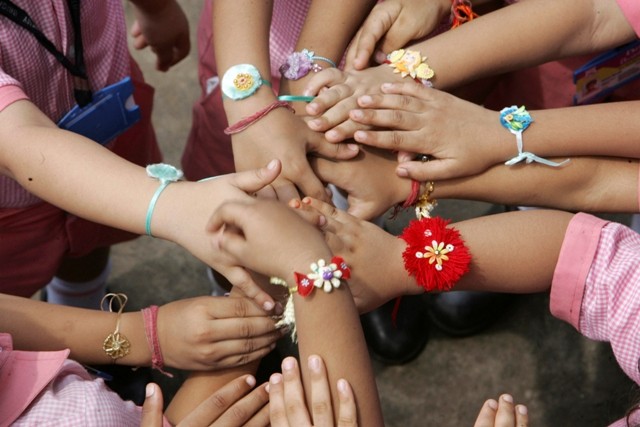 Brothers and sisters divided between India and Pakistan are routing their love for each other through neutral addresses, mostly London and Dubai, on the occasion of Raksha Bandhan due to growing tensions between the two countries.
According to a report by the Hindustan Times, people separated from their near and dear ones during partition in 1947 are planning to send rakhis and gifts through courier services. But the annoying security checks of the parcels have forced people on both sides of the border to send their rakhis and gifts via London or Dubai.
"It's a cumbersome and long-drawn process to send gifts directly to India. So I sent a suit material for my sister first to London. My cousin then dispatched it to India," Lahore resident Prem Prakash, whose sister lives in Delhi was quoted by the daily as saying.
"I sent them (gifts) to a relative in Dubai, who sent the packet to my sister. Many of my relatives have had sad experiences trying to send gifts to India. I don't trust the posts and courier companies in our countries. It's much easier to route your gifts through other countries," Pakistani citizen Asif Alam, who has a rakhi sister residing in Gurgaon, told HT.
He added that gifts can be sent to India in four working days through international courier services in Pakistan, but they turn out to be quite expensive. Therefore, the roundabout route is faster and less problematic with guaranteed delivery of the customer's product.
"My cousins live in Lahore. I have sent them gifts through an acquaintance in London. Customs officials in both nations manhandle gifts. Even letters are opened and read. Sometimes, posts are not delivered. Relations between the two countries have worsened. It is better not to send things directly," Delhi-based trader Charandeep Singh said.
According to the report, second-tier courier services route consignments via Dubai taking around five days to deliver at almost half the price. Pakistan Post might take around three to six weeks.
"With tempers flaring so frequently on the either side of the border, it's mentally comforting to send your gifts through another country," Alam said.