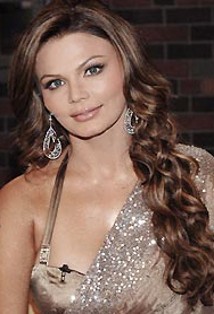 Bollywood actress Rakhi Sawant's recent statement on controversial yoga guru Baba Ramdev has surprised the nation. The actress said on her TV show 'Gajab Desh ki Ajab Kahaniyan' that 'Baba is hot and I want to marry Baba.'
The yoga guru responded to Rakhi's statement, saying, 'Ochi baat'.
"Agar Rakhi mera naam leke apne show ka promotion karwana chahti hai toh yeh kaafi 'ochi baat' hai. Ek saint ko Rakhi apna target bana rahi hai (If Rakhi is using my name to promote her show, then it's very degrading thing to do. Rakhi is making a saint her target),"said Baba who appeared as a special guest on 'Sa Re Ga ma Little Champs' reality show.
Meanwhile, Rakhi claimed that she could improve the look of Ramdev. She said that she would make the bearded Ramdev a handsome. "I don't like his beard, and I would like to know how he looks without it. So, one day, I will make him go clean-shaven!"
"I challenge Swami Ramdev to come to the Bigg Boss house with me! Maneka bann ke main unki tapasya bhang kar doongi (becoming Menaka and I will spoil his meditation). I'm sure he will lose his virginity when he comes face-to-face with my .............," reports the Times of India.
Indicating her possible entry to Bigg Boss 5, Rakhi says, "Colors channel always invites me for the inaugural ceremony, but I really wish they invite me as a wild card entry along with Ramdev this time! I will show him my capabilities!"
"There are many people who tell me that they find Ramdev quite ugly. Par dil laga gadhi se toh pari kya cheez hai! (If you love a donkey, then a nymph/fairy won't look attractive). I still love him! After all, he fought corruption, and I lost weight because of his yoga. He should be proud that the hottest item girl of India has fallen for him despite his sad looks!"
Baba Ramdev, who adores kids and does not want to miss the chance to encourage children, will be seen in a special episode of 'SaReGaMaPa Little Champs' on Zee TV.
The yoga guru showed his talent on the show by singing patriotic and spiritual song.
During the show, he even sang and danced with a couple of kids, which he had never done on national TV thus far.