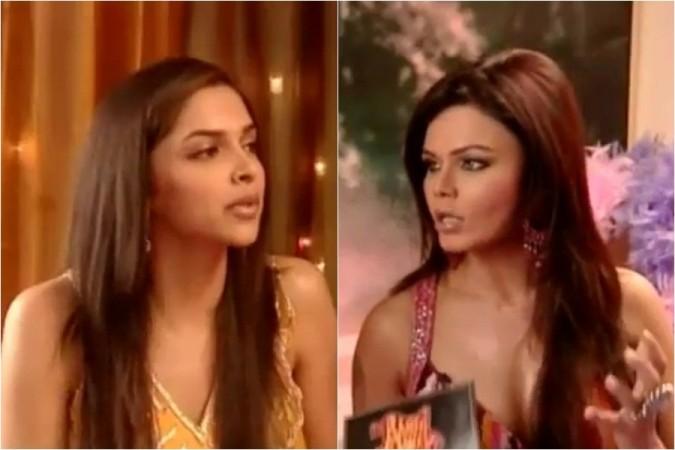 It has been a very long time since we came across any of the weird and strange antics of Bollywood's item girl Rakhi Sawant. Though she has been away from the limelight, she knows exactly how to keep her fans entertained on the social media.
Do you know that in the past Rakhi Sawant has interviewed Deepika Padukone? And can you even in your wildest dreams guess what the controversy queen might have quizzed the Padmavati actress?
Rakhi Sawant, who keeps her fans entertained with her sizzling pictures on social media, decided to take them back in time by offering them a throwback.
In a short video that she posted on Instagram, Rakhi sat with Deepika for a one-on-one chat where the former was seen asking the latter "Which is one body part that you would like to showcase in your films?" while staring at her seductively to which Deepika, who seemed quite amused, asked her sarcastically, "In films? or otherwise?' and replied, "Her smile" after thinking for a couple of seconds with a wide grin on her face.
Rakhi can be seen expressing her surprise to Deepika's answer and tries to mock her saying, "Is it a part of a body". While both burst into laughter, Deepika quickly tells her that her tongue is also a part of her body while flaunting her cute dimples.
But Rakhi, who wasn't really convinced with Deepika's answer, goes on to prod her by mentioning about the kind of clothes she wore in her 2008 hit film Bachna Ae Haseeno terming them as glamorous. If you are smart enough, you would definitely be able to connect the invisible dots at which Rakhi was hinting at.
Don't believe us? Watch the video and go figure it out for yourself and have a good laugh.