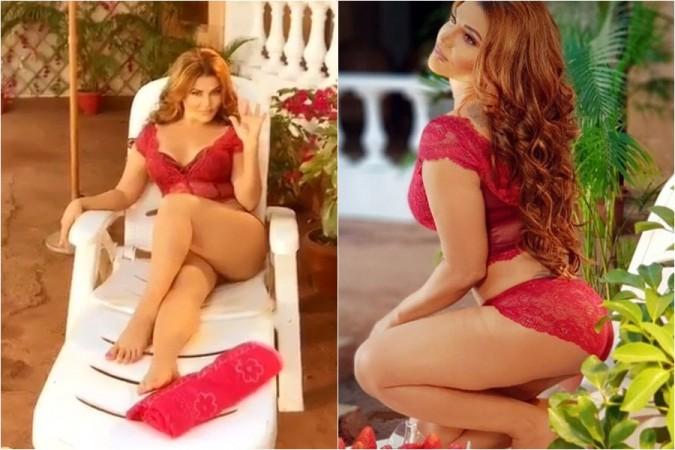 The controversial queen Rakhi Sawant, who is known for weird and funny antics, has been flooding the internet with her quirky Instagram posts that are entertaining in its own ways.
Rakhi, who has never shied away from speaking her heart out, has now revealed her favourite condom flavours in her inimitable way.
In an Instagram video, Rakhi can be heard saying in a sensuous way that she loves oudh, paan and chocolate flavoured condoms holding three packets of them in her hand with a floral headgear filter.
"I feel great becoming the face of Beboy Condoms. I feel we need more condom advertisements and promotions. It will help to reduce the number of victims of sexual diseases. I don't know how people are going to judge me but for me, it's no less than any social activity," Rakhi said in a statement.
Even when she is endorsing safe sex, motormouth Sawant also feels that pleasure is equally important. " Luckily, condoms offer both. They come in lots of different styles, shapes and textures. I feel we need to understand that the topic of sex is not embarrassing but really helpful in preventing rape cases and all," she said.
Well, that's a unique way to promote safe sex and show your obsession for your favourite condom flavour.
Rakhi, who recently announced that she will be opening her dance academy across 10 different cities in the US, also shared a glimpse of her sultry photoshoot. Take a look.
Rakhi Sawant recently posted a throwback video when she sat with Deepika for a one-on-one chat where the former was seen asking the latter, "Which is one body part that you would like to showcase in your films?" while staring at her seductively. Deepika, who seemed quite amused, asked her sarcastically, "In films? or otherwise?" After thinking for a couple of seconds with a wide grin on her face, Deepika said it was her smile she wanted to flaunt.
On the work front, Rakhi will be seen playing the role of adopted daughter of Gurmeet Rahim Rahim Singh, Honeypreet Insaan who was arrested after hiding for over a month after the godman was convicted by a CBI court in Panchkula on August 28 for raping two of his women followers. He was sentenced to 20 years in prison.