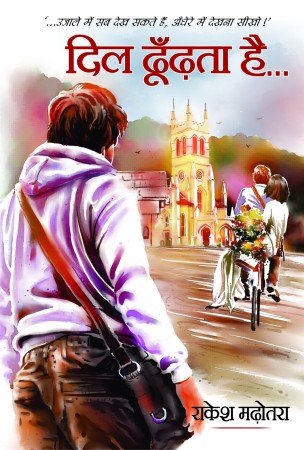 Rakesh Madhotra, the CEO of the production house Nadiadwala Grandson Entertainment, has come up with his first novel in Hindi.
The recently released book, Dil Dhoondhta Hai, delves into man's conscious and subconscious mind. Every human being is on a voyage, we discover, experiment and gain knowledge of new things, but still feel lost.
Rakesh Madhotra says, "The book is a journey of a man who wants to discover his beliefs and the reality of the world. It's a journey of a man's breakups and the people he meets."
The author is confident to generate interest among the youth to opt for his book. He has written the book in such a way that will create curiosity in them and readers will pick up the book by seeing its cover.
When asked about youth's lack of interest in reading Hindi books the author said, "Most of the people read English books because of their quest for language improvement, not for learning from the content, however, Chetan Bhagat has created the reading habit in today's youth with connecting content."
He believes that more reading leads to ignorance: "Our literary scholars have created a barrier between readers and nonreaders, people think the book reader is from literary or literature community, however it is not, books are for all, this barrier has to be removed."
The author takes a digs at the education system in the country, which mainly promotes the English language in schools, and not appreciating Hindi books. Parents are contributing to the same. Though online books have a wider audience, it taxes the mind whereas holding a book while reading relaxes the mind. It is also detrimental to the publishers and the writers at the same time, he opined.