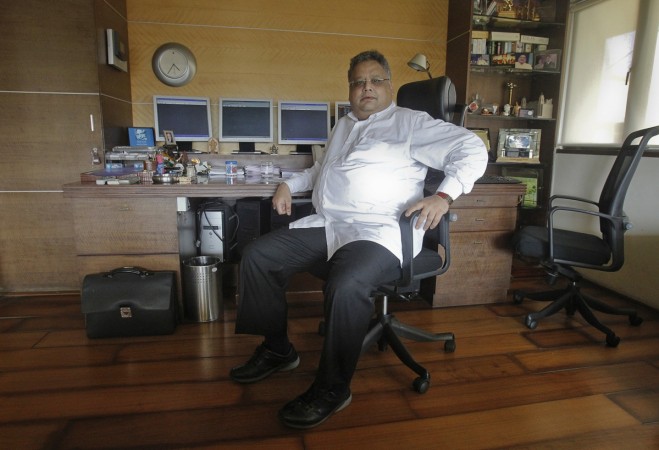 Rakesh Jhunjhunwala, partner of Rare Enterprises and a big-time stock market investor, has said that there there is no need to treat foreign institutional investors (FIIs) with kid gloves when it comes to capital gains on stock markets. His comment comes in the wake of India amending the double taxation avoidance agreement (DTAA) with Mauritius on Tuesday to gradually phase out capital gains benefits on investments routed through Mauritius into India.
"Today I pay 34 percent tax on my derivatives trades, for FIIs it is tax free. Post 2017, they will pay 7.5%. I am playing after paying 34% and I don't withdraw (from the market), and they (FIIs) will withdraw if they have to pay 7.5% tax. What kind of argument is this. It is just that you want to treat the foreigners as your son-in-law for no reason," he told CNBC-TV18 in an interview on Wednesday.
He also dismissed fears of FIIs pulling out their investments from India in reaction to the DTAA amendment, saying so long as they are earning decent returns, they will stay invested in India.
"I have not seen a bull market in which people don't participate because there is a 20% rate of tax. If people see signs of income, money will come," he told the channel.
He said FIIs are not indispensable to the Indian economy unlike some African countries.
"Some of the derivatives volume may migrate to Singapore. But 7.5% rate of tax is a reasonable rate of tax. If some volumes migrate, so be it. We are not some African country that we cannot do without them."
The S&P BSE Sensex closed 175 points lower at 25,597, while the NSE Nifty ended 39 points lower at 7,849.
Top Sensex losers included Bharti Airtel, State Bank of India, Dr Reddy's Labs, Tata Motors, BHEL and ITC.
On the NSE, Zee Entertainment was the top Nifty gainer, up 7.28 percent at Rs. 448, followed by Axis Bank, Hindalco and Asian Paints.