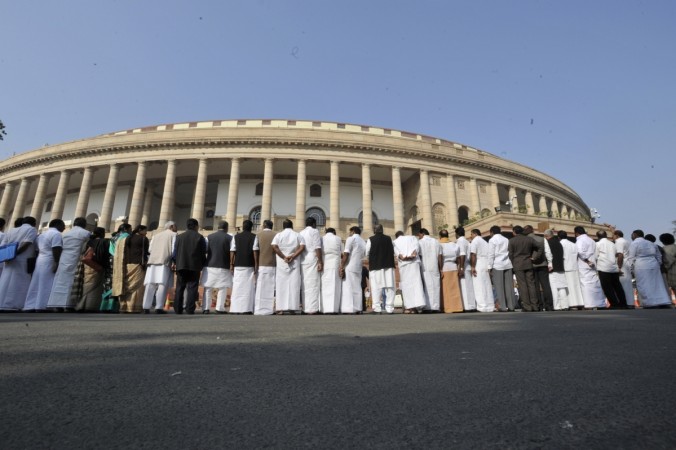 The winter session of Parliament is ongoing with only two days left and the Rajya Sabha passed the Disabilities bill on Wednesday.
Discriminating against differently-abled persons can lead to two-year jail term and a maximum fine of Rs 5 lakh, according to the The Rights of Persons with Disabilities Bill, 2014.
The bill was passed with a voice vote and the Opposition and Treasury benches showed unanimity in passing the bill.
There was also uproar in the Upper House over Minister of State Kiren Rijiju's involvement in a scam in a hydel power project in Arunachal Pradesh.
The Rajya Sabha proceedings can be watched here.
2:15 pm IST: Rajya Sabha adjourned till tomorrow amid uproar.
2:10 pm IST: JDU(U)'s Sharad Yadav said that all crops have rot and farmers have nothing.
2:41 PM IST: Both sides are disrupting, it means both sides don't want discussion, said PJ Kurien Deputy Chairman Rajya Sabha.
1:58 pm IST: The whole country knows who is stalling Parliament. LK Advani Ji being a senior leader is also very sad about scenario in Parliament, said Venkaiah Naidu.
1:29 pm IST: "LK Advani told me that he feels like resigning, adding 'had Atal ji been in the Parl today, he would have been upset,'" TMC MP Idris Ali said. The Parliament is losing because of the ruckus. There should be debate on this.
12:38 pm IST: House adjourned till 2 pm.
12:07 pm IST: Rajya Sabha adjourned till 12:32 PM.
11:40 am IST: Sonia Gandhi ji has no role in it. Driving force behind this procurement was IAF, said former defence minister A K Antony. Ultimately BJP will be a laughing stock by unnecessarily bringing the name of Sonia ji.
11:20 am IST: Farmers' crops have been devalued, said GN Azad.
11:16 am IST: BJP disrupting Rajya Sabha, says GN Azad, who gave notice in house to speak about demonetisation.
11:14 am IST: "Congress has made a grave mistake by raising their finger against me,they will pay the price for their lifetime,I'm telling you," said Kiren Rijiju.
10:46 am IST: Rajya Sabha MP Chhatrapati Sambhaji Raje protests Delhi in support of Maratha reservation.
10:40 am IST: PM Modi holds meeting with Venkaiah Naidu, Nitin Gadkari, Ananth Kumar and Manohar Parrikar in Parliament.
10:31 am IST: "They're now using Kiren Rijiju's name, he is in no way involved. Face this Agusta heat first and respond to allegations," said BJP leader Venkaiah Naidu.
10:31 am IST: Opposition seeks meeting with President Pranab Mukherjee on demonetisation.
10:17 am IST: Leader of Opposition in Rajya Sabha, GN Azad, gives notice on "hardships faced by farmers due to demonetistion".
10:12 am IST: BJP to raise Agusta Westland issue in both the houses of Parliament today.
10:05 am IST: Congress leader Anand Sharma gave notice in Rajya Sabha for discussion on Kiren Rijiju's alleged involvement in Arunachal hydro-electric power project scam.
10:00 am IST: "Apne netaon ki baatein, janata ki kathinayi seriously nahi lete wo (They don't take their political leader's opinions and troubles of the common public seriously). They are saying such things about Rahul Gandhi ji because they are hassled," Mallikarjun Kharge, Congress on MP CM's remark on Rahul Gandhi.
9:54 am IST: Opposition leaders' meeting in the Parliament begins.
9:52 am IST: "Nobody in the country takes Rahul Gandhi seriously," said MP CM Shivraj Singh Chouhan on Gandhi's allegations on the PM Modi.
9:40 am IST: Opposition leaders to meet in Parliament at 9.30 AM today.