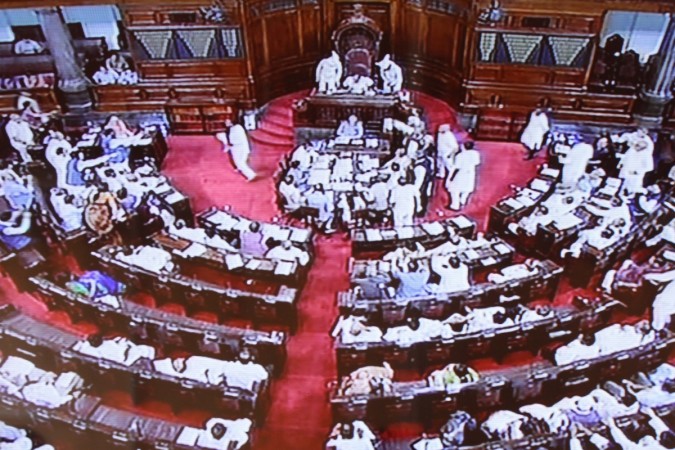 Update: 5:29 p.m. IST: Congress leader Pradeep Tamta elected as Rajya Sabha member from Uttarakhand, ANI reported.
Update: 5:27 p.m. IST: Voting for Rajya Sabha elections 2016 ended on Saturday.
Original Story — Rajya Sabha elections 2016 for 27 seats across seven states will be held on Saturday, June 11. A total of 57 seats fell vacant after candidates retired. Of the 57, 30 candidates were elected unopposed.
Polling in Uttar Pradesh, Karnataka, Madhya Pradesh, Uttarakhand, Jharkhand and Haryana began on Saturday.
The Election Commission had refused to cancel the elections in Karnataka even after a sting video showing senior leaders involved in horse trading for votes.
The Congress, which until now had enjoyed a majority in the Upper House, is set to face a 180 degree turn. The Bharatiya Janata Party (BJP) not only fielded its own candidates but also supported independent candidates to keep Congress away.
As one-third Rajya Sabha seats of 15 states goes to polls, the keenest attention is demanded by Uttar Pradesh (UP) — where 11 seats are up for grabs. The election in UP also demands a closer look as 12 candidates have been fielded for 11 seats.
While Congress' Jairam Ramesh will look to former UP chief minister Mayawati's Bahujan Samaj Party's support BJP-backed independent candidate Preeti Mahapatra will have to attain at least 27 more votes to secure a place, NDTV reported.
In Karnataka, there are five candidates for four seats. While Congress is likely to win two and the BJP one. The main contest stands between the fourth seat where a Congress and a Janata Dal-Secular (JD-S) are in the fray.
In Haryana, two seats are up for grabs and one will go to BJP's Chaudhary Birendra Singh, while the other is being contested between two independent candidates — one backed by the BJP and other by the Congress.
In Jharkhand, the Congress supports a Jharkhand Mukti Morcha candidate Basant Soren. However, the BJP has forced a contest for the seat by fielding its candidate. The other seat from Jharkhand will go to Mukhtar Abbas Naqvi.
Meanwhile, after the BJP registered a complaint against two Congress MLAs arrest warrants were issued for them, sending Congress in a tizzy. The party have approached the EC arguing that the BJP is misusing power to win the elections, according to the Indian Express.
In Uttarakhand, one seat is in the fray. The Congress is contesting two other independent candidates to gain access to the Rajya Sabha seat. Mayawati's support has become crucial in the matter. She had also supported Chief Minister Harish Rawat when a floor test was contested to see if he had the majority to continue as the chief minister after a few of his MLAs defected. Two MLAs were recently disqualified in the state as they had cross-voted during the floor test.