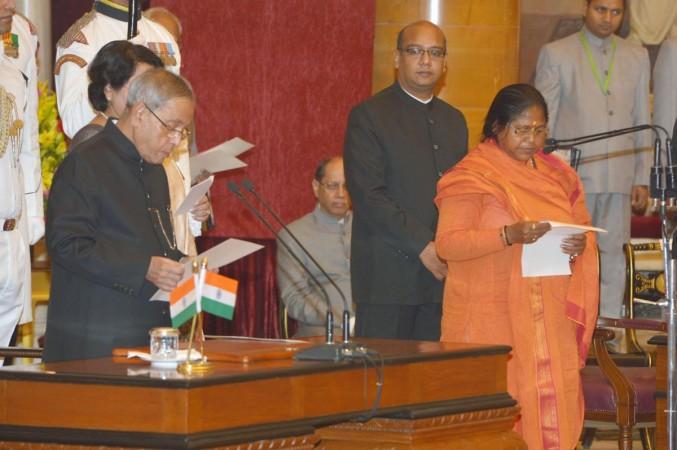 The Rajya Sabha was adjourned again on Wednesday over the opposition's demand for Union Minister Sadhvi Niranjan Jyoti's dismissal for using abusive language at a campaign rally.
2:05pm As soon as the Rajya Sabha resumed after lunch, opposition once again raised their demand for Jyoti's resignation, which Naidu refused saying, "There is no question of resignation of Union Minister Sadhvi Niranjan Jyoti."
The opposition parties have refused to accept her apology on the grounds that Jyoti has violated Constitutional rights and committed an unforgivable mistake.
Rejecting Jyoti's apology, Congress demanded her resignation and asked the government to take immediate action against her. CPI leader Sitaram Yechury and Congress leader Anand Sharma demanded Jyoti's resignation in the House.
Sharma said Modi must come to the House and sack Jyoti as it is a "cognisable and non-compoundable crime, punishable up to three years," Zee News reported.
Responding to the opposition's demands and reacting against the uproar leading to disruption of the proceedings, Parliamentary Affairs Minister M Venkaiah Naidu asked for cooperation from the members and let the "House function effectively." He told them that Prime Minister Modi had already warned the minister against using such language.
"... the Prime Minister told the parliamentary party meeting, people should avoid using such language and it is not acceptable, he said it, and then subsequently had a meeting with the minister, minister has realised, and then she came and apologised to the House and then she came to the other House apologised also," Business Standard quoted Naidu as saying.
"What else do you expect from her? She is of a different background, first time she has come to Parliament," he added.
While addressing an election rally in west Delhi's Shyam Nagar on Monday, Jyoti had asked the voters to elect the followers of Ram. "You have to decide. Do you want a government of Ramzaadon (followers of Ram) or (those who are illegitimate)?" she had said.
On Tuesday, she apologised for her remark and said that her statement was targeted at separatists and not anyone else.
"I did not take name of any particular individual, community or party. I was talking about separatist parties and leaders who think of dividing the country and who do not consider themselves to be a part of India," she said.