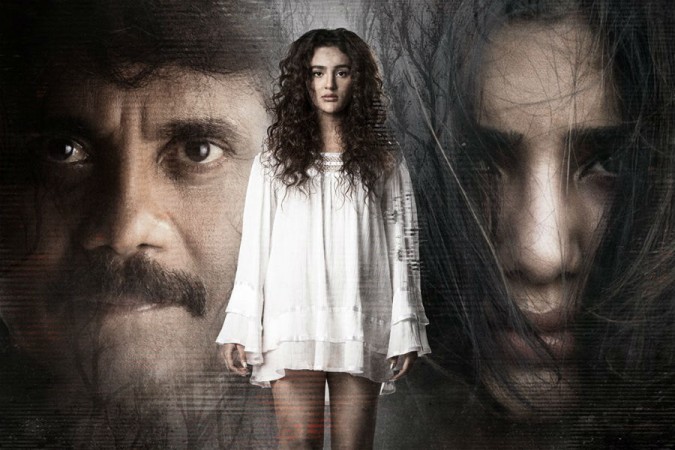 Samantha, who tied the knot to boyfriend Naga Chaitanya recently, and her father-in-law Nagarjuna-starrer Raju Gari Gadhi 2 has released to positive reviews.
Director Ohmkar had surprised the industry with Raju Gari Gadhi, which did not have big names in the cast.
He is back two years later with the sequel with some leading names playing the key roles.
Ashwin Babu, Seerat Kapoor and Vennela Kishore will be seen in important roles in the sequel, which has S Thaman's music and R Diwakaran's cinematography.
Story:
The story of Raju Gari Gadhi 2 is about three friends venturing into a business. They purchase a resort, but it is apparently haunted. So they seek the help of mentalist Rudra (Nagarjuna), one of the big names in the profession who can read one's innermost feeling with just eye-contact.
He has the ability to interact with ghosts, and what happens once he enters the house to get rid of the evil force is the most interesting part of the story.
Review:
The movie has garnered positive reviews.
The best part of the story is that people have highly praised Samantha's performance and the climax portion.
Find out what how viewers reacted to Samantha's acting and the climax:
Tarun Mutyala‏ @TarunJanasena: Superb Climax !!!!@Samanthaprabhu2: No Words To Say Just
#ChaySam ‏ @babumudiraj26
Another Blockbuster for @Samanthaprabhu2 & @iamnagarjuna sir Especially Climax scene superb #RajuGariGadhi2 The dialogues of #SamanthaAkkineni & #NagSir in the climax are heart touching . Nd a good msg movie to today's youth #RajuGariGadhi2
pavan kumar‏ @pavan_k123: @Samanthaprabhu2 just watched the movie.totally awesome and u nailed the show
climax is super #RajuGariGadhi2 #mamaandme #iamnagarjuna
Manu kommuri‏ @urstrulymanuk: @Samanthaprabhu2 hatsofff to ur performance in #RajuGariGadhi2 juz mind blowing expecting much more frm u
Sathyaraaj N G‏ @iamurs23: @Samanthaprabhu2 @iamnagarjuna both done an excellent performance. 2nd half very impressed. #RajuGariGadhi2 one of d best in 2017.
@Samanthaprabhu2 Nailed In #RajuGariGadhi2 Hats Off To Your Acting.U Always Make TFI Proud To The Core.Congratulations For All The Success
Sudha •‏ @MISS_MAHESHOLIC: @Samanthaprabhu2 Nailed In #RajuGariGadhi2 Hats Off To Your Acting.U Always Make TFI Proud To The Core.Congratulations For All The Success
Shaik imam‏ @JrNTRfan2: @Samanthaprabhu2 2nd half keka. #RajuGariGadhi2 ends with a great message oriented monologue by @iamnagarjuna. Chinna thalli @Samanthaprabhu2 roockedd.
@Samanthaprabhu2 Nailed In #RajuGariGadhi2 Hats Off To Your Acting.U Always Make TFI Proud To The Core.Congratulations For All The Success
Darling Hari‏ @HariHar9090: #RajuGariGadhi2 superb movie
Climax lo@Samanthaprabhu2 performance nailed it Darling tho kuda oka mve cheyandi mam we r waiting4r ur combo