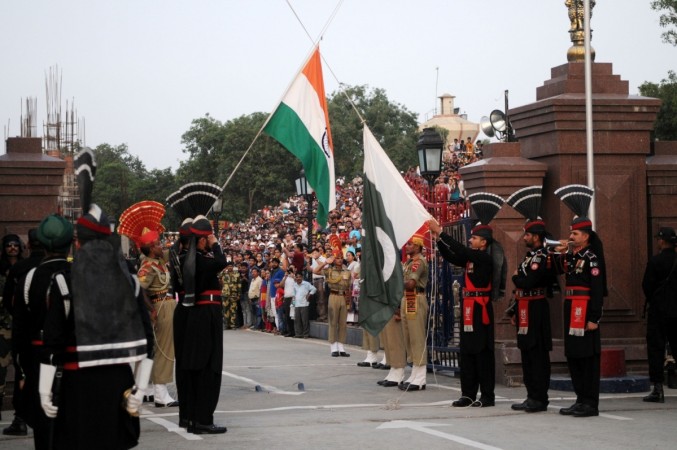 Minister of State of Home Affairs Kiren Rijiju said on Monday that Home Minister Rajnath Singh's security during the SAARC meet of Home Ministers was Pakistan's responsibility.
"Terrorism will figure in talks. If any security issue arises, it is Pakistan's responsibility to deal with it," Rijiju said after JuD chief Hafeez Saeed issued a warning against Singh visiting Pakistan.
Jamaat-e-Islami (JI) chief Sirajul Haq warned Pakistani leaders from welcoming Union Home Affairs Minister Rajnath Singh during the SAARC meeting of interior/home ministers in Islamabad this week. The JI, Hizbul Mujahideen and Jamaat-ud-Dawa (JuD) had initiated a march towards the Pakistan side of the Wagah border on Sunday in a continuance of the protest against the death of Hizbul leader Burhan Wani.
The Azadi-e-Kashmir march was organised by the Jamaat towards Wagah border crossing from Lahore's Nasir Bagh, the Express Tribune reported. Haq also called on leaders in Pakistan to create a fund to aid injured Kashmiris in India. The police brutality in Kashmir, where pellets have blinded many youths over the past few weeks, has been criticised not only by Pakistan but also in India.
"Whoever welcomes him will be compelled to leave Pakistan," Haq said.
Also present during the event was Syed Salahuddin, leader of the banned organisation, Hizbul Mujahideen. He said that Wani's death created a feeling of hatred towards India in Pakistan. He advised that Pakistan must break off diplomatic ties with India until the Kashmir issue was resolved and that they would continue their "jihad" until it was done. He also called on people to protest against Singh's arrival to Islamabad for the meeting.
Qari Yaqoob Sheikh of Jamaat-ud-Dawa called India second to the U.S. in terms of terrorism as it did not adhere to the United Nations' on Kashmir. He said that as many as 300 Kashmiris have lost their eyesight due to brutality by security forces and almost 3,000 Kashmiris have been injured until now.