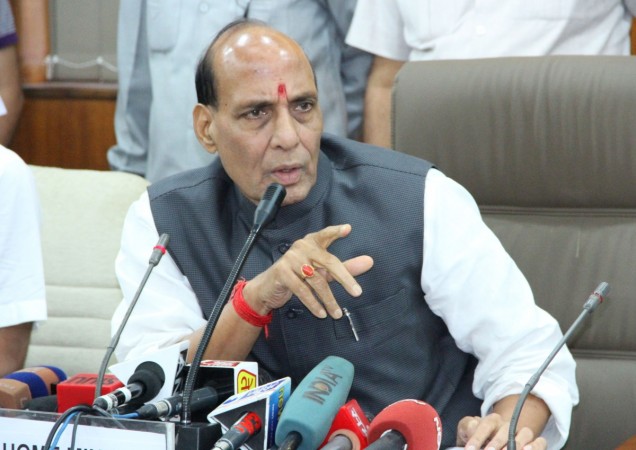 A day after Union Home Minister Rajnath Singh condemned Pakistan on its own soil over terrorism, he reiterated his stance in parliament on Friday. Singh said terrorism should not be glorified, in a clear jab at Pakistan referring to the death of self-styled Hizbul Mujahideen commander Burhan Wani as martyrdom.
Singh spoke about terrorism and Pakistan role in it in his speech during a meeting of Home Ministers of South Asian Association for Regional Cooperation (SAARC) countries on Thursday. However, his and other home ministers' speeches were blacked out, and Singh said in parliament journalists from India accompanying him were not allowed inside.
"I said there is a need for the strongest action not just against terrorists but also those who support terrorism," he said referring to his address in Pakistan.
Read: The full text of Rajnath Singh's speech in Pakistan
"I urged all [SAARC] members that terrorists should not be glorified nor should be patronised," he said, in reference to Pakistan's stance on Burhan Wani and others.
"I also gave suggestions during the SAARC meet that ban on terror outfits by U.N. must be respected, and that there is no good or bad terrorism," he said. The first part was a jibe at Pakistan's refusal to arrest those that are wanted for terror activities in other countries, a prime example being Lashkar-e-Taiba founder Hafiz Saeed, who is wanted in both the United States and India.
The second part was a jibe at Pakistan's statement on "good Taliban" and "bad Taliban," a stance it vacated following the Taliban-claimed attack at the Army Public School in Peshawar in 2014, in which more than a 100 children were massacred.
Singh's statements received widespread support from Rajya Sabha members who cut across party lines to condemn terrorism. This prompted the home minister to say: "I appreciate the unity of the House against terrorism. It reflects the country's determination to fight terrorism. I appreciate how all members have spoken in one voice on the issue of terrorism."
On the issue of his speech being apparently blacked out, Singh said: "It is true that Doordarshan, ANI and PTI reporters who had come from India were not allowed to enter [the SAARC meet]." This was met with shouts of "Shame!" from members of the Rajya Sabha.
Singh continued: "I will not comment whether Pakistan was right or wrong in not allowing coverage [of the speech]." He also said he would confirm with the Ministry of External Affairs (MEA) what the protocol was for the broadcasting of such speeches. Earlier, MEA spokesperson Vikas Swarup had said it was standard protocol for these speeches not to be broadcast, so as to allow free and frank discussion.
On Pakistani news outlets' allegations that he had left the venue in a huff, Singh said: "The Pakistani Interior Minister had invited everyone for lunch, but then left in his car. So, I also left. I have no grudges as I wasn't there to have lunch."