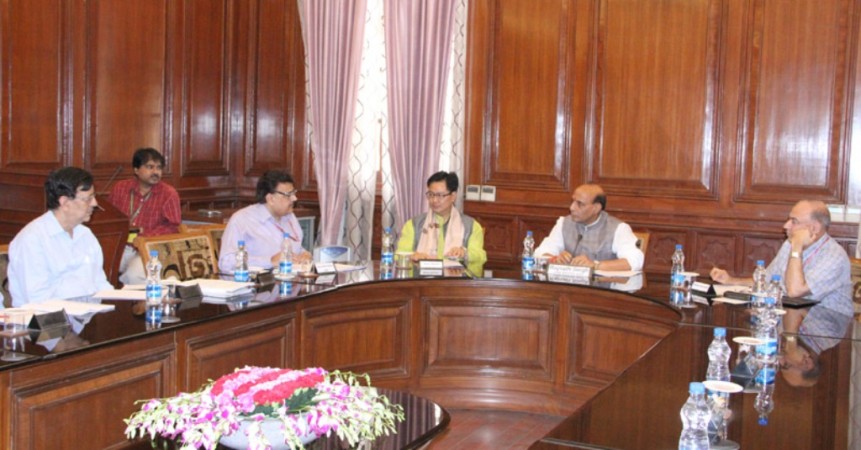 Union Home Secretary Anil Goswami will soon convene a meeting of chief secretaries and other top bureaucrats of the newly bifurcated Telangana and Andhra Pradesh to end infighting over several issues, such as sharing of drinking and irrigation water, power supply and municipal affairs.
Union Home Minister Rajnath Singh is said to have asked Goswami to sort out the issues between the two states. The states have shared buildings for legislature assembly, council, secretariats and other key properties for now.
Though the two states have been functioning separately, distribution of several resources and properties was still on. In the process, squabbles between administrations of the two states have arised. Hence, the Union Home Ministry is set to intervene and sort out the issues
Goswami is now expected to bring amicable solution to several issues between Telangana and AP, especially division of assets and resources.
Since Telangana was carved out by the Union government directly and not through a proposal of the then-united AP Assembly, it is the government's responsibility to settle any outstanding issues between the two states, according to bureaucratic sources in Delhi.
Quoting the Union Home Ministry's sources, Deccan Chronicle reported that the Centre's priority is to ensure that the infighting between the two states does not come out on to the streets.
Singh reviewed the functioning of the Policy Planning Division of his Ministry in Delhi on Wednesday.
At the meeting, Singh was also apprised of the security arrangements for VVIPs/VIPs. Singh desired that these security arrangements may be reviewed and suitably strengthened, wherever required.
The Home Minister also instructed the officials for security audit of vital installations, wherever due. Wherever necessary, additional forces should be deployed to ensure adequate security arrangements are in place for such vital installations, he said.
Budget provisions earmarked for making security arrangements may be reviewed and suitably enhanced, the minister stressed.
Singh said that the avenues for strengthening bilateral security relations with the neighbouring countries should be explored. He stated that efforts be made to ensure that Mutual Legal Assistance Treaty (MLAT) in criminal matters are entered into, with as many countries as possible, and specifically with the neighbouring countries.
Issues and innovative ideas for the forthcoming SAARC Conference of home ministers should be identified so that the same can be deliberated and consensus is evolved during the Conference, he stated.