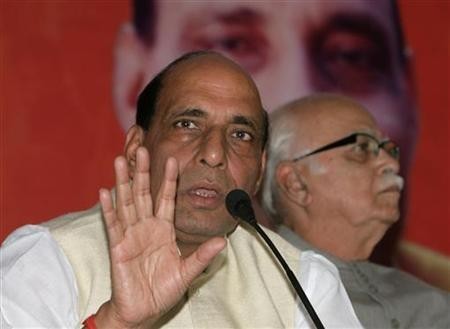 Former UP chief minister and party veteran Rajnath Singh has been elected unopposed as the BJP President on Wednesday. Singh emerged as a consensus candidate after outgoing president Nitin Gadkari opted out of the race on Tuesday evening.
Singh who was also party president between 2005 and 2009 has been elected for a two-year term till 2015, a BJP spokesman announced at News Conference at Delhi. He had filed his nominations for the post on Wednesday.
Gadkari and senior leader LK Advani addressed the media after the appointment of Rajnath Singh as the new party president.
He was the only president of the BJP who had completed his term and an extended term after 2000. All other BJP presidents were forced to quit before completing the term for known reasons.
He became a consensus candidate after Gadkari met with opposition from some of the key party leaders over his tainted image. Gadkari is facing allegations of corruption over the dubious funding to companies promoted by him.
Gadkari in his address to the media congratulated Singh and said he is hurt by the conspiracy against him.
"As far as the second term goes, there has been a political conspiracy to malign me in issues I am not connected to.. Yesterday, I felt it was a conspiracy to hurt the party by maligning me," he said, according to NDTV.