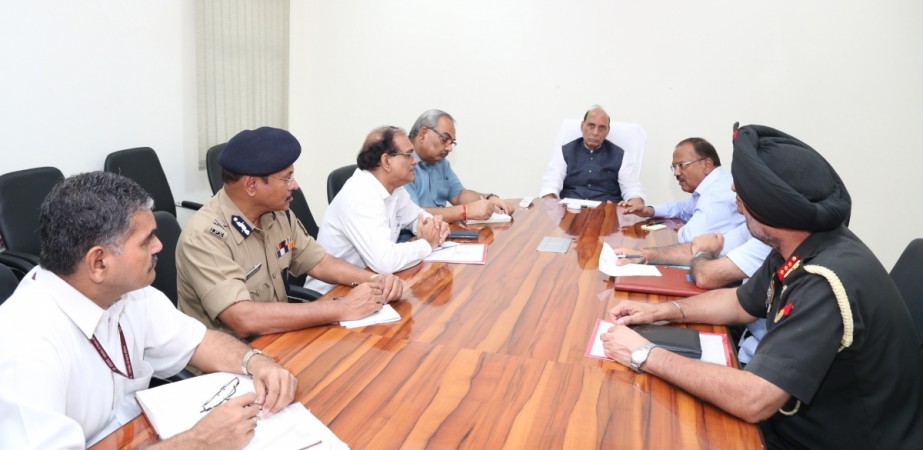 Home Minister Rajnath Singh on Tuesday reviewed the functioning of the Border Security Force (BSF) following the worsening relationship with Pakistan.
Singh, along with the BSF Director General (DG) K K Sharma, took note of all the pending issues and discussed ways to speed up the development of infrastructure and welfare of the troops, said a defence ministry statement.
The BSF DG noted that the paramilitary force had finalised the recommendation of the Committee of Chiefs of Central Armed Police Forces (CAPFs) for grant of risk and hardship allowance to BSF personnel, while adding that this will be soon submitted to the ministry for approval.
To aid the movement of the soldiers, the ministry had cleared the attachment of extra coaches in four major trains.
They discussed upgradation of existing Border Out Posts (BOPs), construction of advance Fiber Reinforced Polymer (FRPs) shelters for high altitude areas and acquisition of land for new battalions.
They also discussed the issue of the BSF Air Wing, which is evolving as a self-regulatory establishment on the lines of the Coast Guard.
The use of modern technology for Comprehensive Integrated Border Management Solutions (CIBMS) was also discussed, stressing the need to use technology to assist the soldiers.
The BSF DG on his part assured the minister the force will cover ground on CIBMS projects. Further, the minister directed all the related departments to speed up action for approval of all the pending issues that was related to the BSF, who are the first line of India's defence against Pakistan and China.