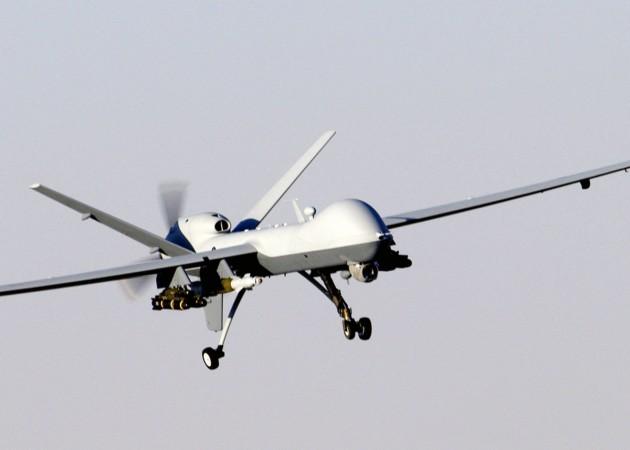 Union Home Minister Rajnath Singh convened an urgent meeting with External Affairs Minister Sushma Swaraj and Defence Minister Manohar Parrikar on Thursday to discuss Pakistan's allegation that a camera-equipped Indian spy drone was taking photographs of Pakistan occupied Kashmir (PoK) on Wednesday before it was shot down by its army.
National Security Adviser (NSA) Ajit Doval was also part of the meeting, held at the home ministry in the North Block of Central Secretariat.
Apart from Pakistan's "Indian spy drone" claim, the ministers also discussed the three ceasefire violations by the Pakistani Rangers since Wednesday, in which one woman was killed and many others, including two BSF soldiers, were injured.
Foreign secretary S Jaishankar later held a press meet after the high-level meeting ended at around 5 pm. He said the "spy drone" that Pakistan shot down did not belong to India, adding that it appeared to be "Chinese design which is off the shelf".
UPDATES:
At the moment the issue for us is stabilizing the border, & our determination to protect our security: SJaishankar pic.twitter.com/fsKs5QDGPI

— ANI (@ANI_news) July 16, 2015
On ceasefire violations, Jaishankar said the BSF soldiers tried to communicate with Pakistani Rangers four times, but they did not respond: NDTV
It should be clear that any unprovoked firing will be met with an effective & forceful response from our side: Foreign Secy
India remains committed to steps that contribute to peace on border but we wont let our guard down: Foreign Secy
Drone isnt in inventory of Indian Armed forces, appears to be of Chinese design & available off the shelf: Foreign Secy SJaishankar

— ANI (@ANI_news) July 16, 2015
Jaishankar said the "spy drone" that Pakistan shot down does not belong to India. The drone appears to be Chinese design which is off the shelf.
NSA inquired why conversations werent initiated by Pak if firing was started by the Indian side: S Jaishankar on ceasefire violations
We sought an end to the firing & corrective steps on their (Pak) part: Foreign Secy S Jaishankar on ceasefire violations
Ahead of the meeting, Pakistan foreign secretary Aizaz Ahmad Chaudhry summoned Indian high commissioner TCA Raghavan to lodge a protest against the "violation of Pakistan's territorial integrity", PTI reported.
Pakistan is also said to have lodged a protest with India against the cross-border firing along the International Border.
Pakistan had earlier claimed that a spy drone was spotted at Bhimber area along the Line of Control (LoC) in PoK.
"An Indian UAV (spy drone) entered Pakistan's air space in violation of the international law, Pakistan's territorial integrity... The UAV was brought down by Pakistani troops," NDTV cited an excerpt from a statement from the Pakistan Foreign Office.
The Indian Army and the Indian Air Force, however, rubbished the claims saying no Indian drone has been shot down or destroyed by the Pakistani Army.
Tension gripped the bordering areas of the two countries after their prime minsiters met in the Russian city of Ufa on the sidelines of Shanghai Cooperation Organisation (SCO) Summit and agreed to peacefully sort out the differences.
Prime Minister Narendra Modi is scheduled to visit Jammu district on Friday.
(Source: ANI tweets)