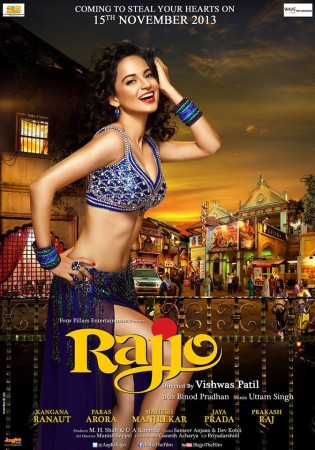 Bollywood's newest release "Rajjo" starring Kangana Ranaut finally hit the screens on Friday.
National Awardee Vishwas Patli's take on the life of a sex worker has Ranaut playing the titular character who falls in love with a younger boy (Paras Arora) and gets married to him. The circumstance leads to complications for both and some highly dramatic lacklusture performances follow. Critics slammed the brothel drama for its bygone era treatment, citing it to be a miserable failure.
Here is a look at what critics had to say:
Madhureeta Mukherjee, Times of India (2.5/5) writes
"Kangna, as Rajjo makes a pretty picture in every frame (perfect make-up, hair-do and fashionable clothes. Why???). You can't miss her reddened lips even as she turns into a village belle for some part. She makes a sincere effort, but is trapped in story that crumbles and finds no escape.
"Randomness rules! Events unfold - forced and futile. Dialogues with zero-impact (some laughable) find their way into this mehfil of mess. Well, the social message is good, but Rajjo's trials and tragedies don't evoke a tear of emotion or grief. Most of all, the direction, execution and music is stuck in bygone era. This one falls many notches below expectation. And not even a Rajjo-nautch can swing it out of the red-light zone."
Mohar Basu, Koimoi.com (0/5) writes
"Rajjo is a sickening, pathetically made, loud, over dramatic crass of a film. Heavy on cuss words and horrendous dialogues, it is a shabby piece of trash. Usually even the worst films have something good in them, but Rajjo has poor acting, poorer dialogues, poorest songs and not an inkling of good in it.
"Director Vishwas Patil was surely not clear about what he was trying to make. It was haphazard, unconvincing and utterly flimsy. The story has no steam from the beginning. Awfully boring, and laughworthy, the worst player here was editing. It all seemed like individual shots pasted together. There is barely any connection between one scene and another."
Paloma Sharma, Rediff (1/5) writes
"Rajjo is based on the timeless love/lust triangle -- we have a beautiful courtesan, her poor but sensitive lover and the heartless businessman who is hell-bent on acquiring her -- but that does not imply that the director (Vishwas Patil) couldn't do something new with it. It is sad that he chose not to.
"The makers had enough material to work with given the setting of the story. However, there's a lot that goes unexplored... Kangana Ranaut struggles with her Mumbaiyya dialogues and is not as graceful in the dance sequences as one would have expected. Mahesh Manjrekar and Prakash Raj are absolutely wasted in the film.
Rajjo is a horribly confused film. It is shabbily edited to the point of seeming to be cut-pasted from different films. The story launches into too many tracks which almost never come full circle."
Porva Khole, Bollywood Life (1.5/5) writes:
"The film's weak in both screenplay and the editing departments. Vishwas Patil's directorial debut fails to leave a mark, it's almost two decades old as far as execution goes and has the '80s feel which probably may not work today.
"Rajjo also fails because it's a half baked attempt. When you have a performer like Kangna who has done intense roles in the past be it 'Fashion' or 'Gangster', Patil fails to exploit a daring heroine who is willing to ride solo and take risk."