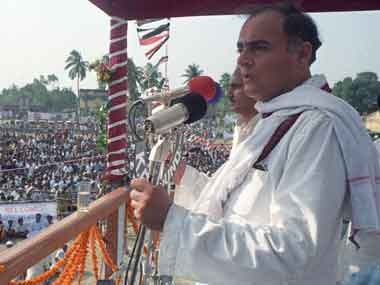 In a shocking revelation, US cables procured by WikiLeaks in the 1970s revealed former Prime Minister Rajiv Gandhi's role of a middleman in a Swedish jet deal.
After a thorough investigation of the 'Kissinger era cables', The Hindu unearthed Rajiv Gandhi's entrepreneurial role in Swedish jet company Saab-Scania's dealing in the sale of their Viggen fighter aircrafts to India.
"Swedish emboff has informed us that main Indian negotiator with Swedes on Viggen at New Delhi end has been Mrs. (Indira) Gandhi's oler (sic) son, Rajiv Gandhi. Latter's only association with aircraft industry (to our knowledge) has been as pilot for Indian Airlines and this is first time we have heard his name as entrepreneur," revealed the 21 October 1975 cable from New Delhi US embassy.
The cables further pointed to the Swedes' knowledge of Rajiv Gandhi's "importance of family influences," which was considered vital in clinching the fighter jet deal.
However, no US cable has been found either confirming or denying the former PM's negotiation in the dealing of Saab-Scania which hoped to sell 50 of its Viggen fighter aircraft to India.
The deal was later given away to British firm SEPECAT Jaguar.
The cables date back to the time when Rajiv Gandhi had not even joined politics and only served as a pilot with the Indian Airlines. Henry Kissinger was serving as US Secretary of State at that time.
This is not the first time that Rajiv Gandhi's name has been linked to such scandals. He was also allegedly involved in a gun deal with Swedish firm Bofors. The scandal led to Congress's defeat in 1989.
The controversial revelation has created furore in the country. BJP has strongly condemned the Gandhi family's involvement in the controversial arms deal and demanded a suitable explanation.