Rajinikanth has raised the bar in business once again with "Lingaa". His latest movie has earned ₹80 crore profit even before its box office debut.
The Rajini starrer has made a turnover of ₹200 crore from various rights and has earned a profit of ₹80 crore, as per traders. Producer Rockline Venkatesh sold the entire rights of "Lingaa" to Eros International for ₹120 crore a few months ago and had become one of the biggest deals in South India.
Click Here to Know About Area-Wise Distributors of "Lingaa"
After acquiring overall rights from Rockline Venkatesh, Eros sold the area-wise distribution rights to multiple parties. As per trade reports, the makers have earned around ₹71 crore by selling the theatrical rights in India from the Tamil version of "Lingaa". The Telugu version has been sold for ₹5 crore.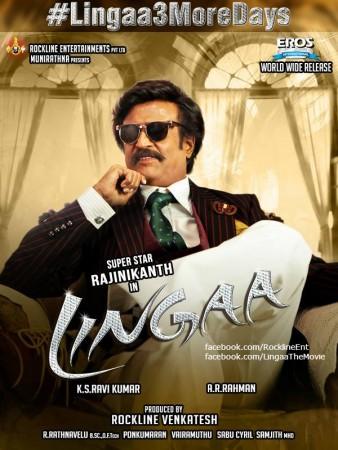 The overseas theatrical rights of the two versions of "Lingaa" have earned ₹30 crore for the makers of the film.
The next big money comes from the satellite rights and Eros has once again struck gold. The satellite rights of the Tamil and Telugu versions have reportedly fetched ₹32 and ₹23 crore for them.
In addition to this, the music rights of all three versions worth ₹10 crore are with Eros. Along with it, the movie is being released by the company in North India as well. So the estimated worth of these rights and the Hindi version of the satellite rights are expected to be around another ₹20 crore.
Find below the break-up of business (Unofficial).
Budget: ₹120 crore
Domestic Theatrical Rights of Tamil Version: ₹71 crore
Domestic Theatrical Rights of Telugu Version: ₹25 crore
Overseas Theatrical Rights of both Tamil & Telugu versions: ₹30 crore
Satellite Rights of 3 Versions: ₹65 crore
Audio Rights of Three Versions: ₹10 crore