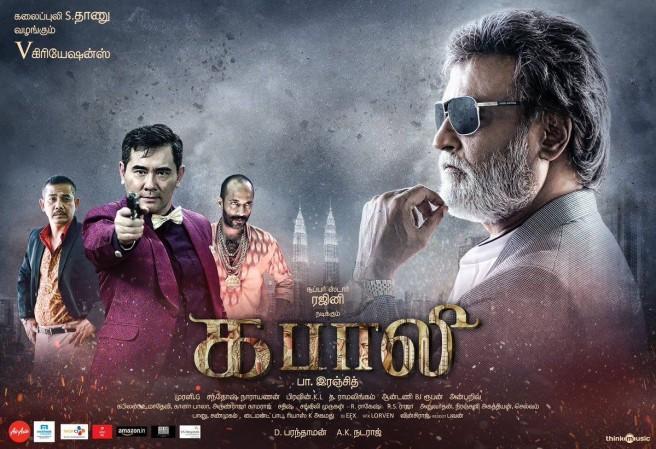 Kabali is set to make this Deepavali a special occasion for fans of Rajinikanth as it is heading towards completing a 100-day run in theatres on October 29. The movie is currently being played at a few screens in Tamil Nadu.
The film was released on July 22 to an unprecedented hype. Kabali hit over 4,500 screens in three languages — Tamil, Telugu and Hindi. It registered an earth-shattering opening, and grossed Rs 87.50 crore on the first day and ended its first weekend by minting over Rs 200 crore.
The opening figures clearly showed the popularity of Rajinikanth and the prevailing craze around the movie. Viewers welcomed Kabali with mixed reviews. However, like with his two previous films — Lingaa and Kochadaiiyaan — the response did not have much of an impact on the film. Producer Kalaippuli S Thanu also enjoyed good support from distributors and exhibitors.
Meanwhile, fans of Rajinikanth have reportedly planned a 100-day celebration of Kabali in various parts of Tamil Nadu. The producer is also believed to be organising an event in Chennai. But the makers are yet to open up on their plans.
Kabali, which is believed to have been made with a budget of Rs 100 crore, has given a much-needed boost to Rajinikanth, since his two previous films failed to perform well at the box office. It has reportedly given profits to the producer, distributors and exhibitors.
Acoording to trade reports, Kabali has grossed over Rs 300 crore worldwide and made over Rs 100 crore at the overseas box office. The multilingual film has also earned about Rs 225 crore from the sales of various rights and deals.
Kabali is also set for its television premiere. It will be aired on Malayalam television channel Asianet at 6 pm on October 30.
Pa Ranjith's Kabali is a revenge drama in which Radhika Apte plays the female lead.