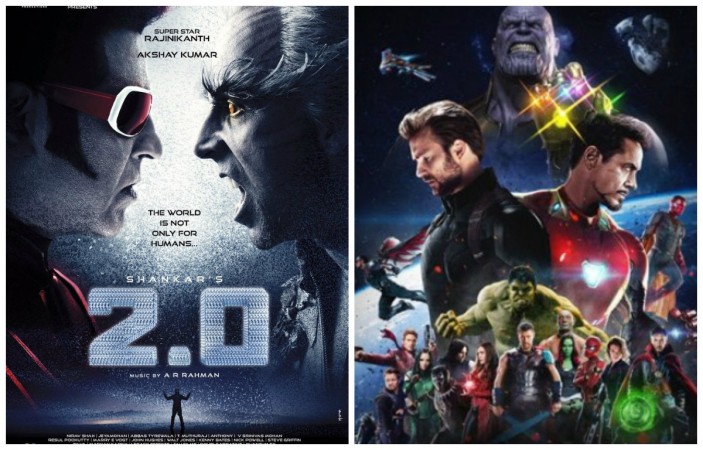 The makers of 2.0, starring Rajinikanth and Akshay Kumar, have announced the release date of the film, and immediately the upcoming movie is being expected to create Baahubali 2-type magic at the box office.
The big-budget 2.0 is set to be released on April 28 next year. Interestingly, it is the same date when Baahubali 2 had hit the screens this year. The film was earlier slated to be released in January 2018.
Social media is now abuzz with reactions and speculations on 2.0. There are two aspects of the 2.0 release date that are mostly being talked about on social media: Its connection with Baahubali 2 and its upcoming clash with Avengers: Infinity War.
First, many are speculating that 2.0, which will be released on the same date that Baahubali 2 had hit the screens a year earlier, will be equally big at the box office.
However, others are saying Baahubali 2 had become a rage not because of the date but for its excellence.
Some others are talking about the clash between 2.0 and Avengers: Infinity War. Many believe that the Rajinikanth-starrer will simply whitewash the Hollywood movie at the Indian box office.
Some others believe that 2.0 is popular only in the southern part of the country, and the north will be more interested in watch the Hollywood flick from the MCU.
But a few tried to counter the second argument recalling how Baahubali 2 had become a huge blockbuster in the north as well.
Lol no one cares about 2.0 in north india. Avengers has more hype

— #Pkult (@Dreamville102) December 3, 2017
Joke ? Heard the same before the release of Baahubali ! Will see the same effect post 2.0 release

— Raghu (@RaghuChepuri) December 3, 2017
Main problem of 2.0 is it's content,it is not like Bahubali ,desi story with great visuals, 2.0 is like Michael bay transformers , people have already watched this type of movie, if the story is not good, producer will lose money

— BB8 (@BoxofficeBizzz) December 3, 2017
don't you find it kinda funny..... seriously you may think you are lifting Rajinikanth fame through this tweet but U R defaming him what kind a crap joke is this you are comparing #AvengersInfinityWar with #2Point0

2.0 is big for us in south india &U know the range of AVENGERS

— GS (@logan4x) December 3, 2017
Lol...avengers gonna eat 2.0 entirely.... Rajni shankar are nly big in south nt in north...robot didn't do well... If it clashes then 150 max

— KING ♔ (@RealRazin) December 3, 2017
2.0 is touted to be the highest-budgeted movie ever made in India, and thus a lot of money will be at stake.
In such scenario, only time will tell if the decision to release it alongside Avengers Infinity War is a good one or the producers will end up losing big bucks.