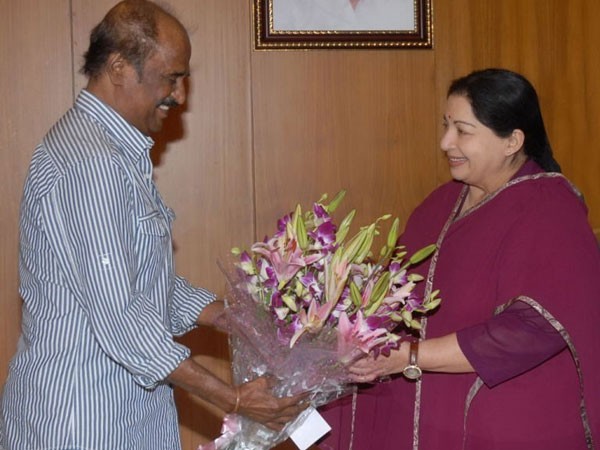 Rajinikanth has opened up on his controversial episode when he made a plea to the people of Tamil Nadu not to vote for J Jayalalithaa. In 1996, the superstar had requested the citizens not to vote the AIADMK to power and Jaya's party had eventually lost the elections.
He recalled this incident at the condolence meet organised by the Nadigar Sangam for the ex-chief minister of Tamil Nadu who passed away on 5 December. "She was distressed because of my words. I was one of the main reasons why she lost in 1996," the Times of India quotes the superstar as saying.
Rajinikanth had supported the DMK and said, "If Jayalalithaa is voted back to power, even God cannot save Tamil Nadu." It was believed that the superstar had made this comments based on the views expressed by multifaceted journalist Cho Ramaswamy to him.
However, Rajinikanth remembers Jayalaltihaa's greatness in her gesture to attend his daughter Aishwarya's marriage with Dhanush. Despite being upset, the AIADMK supremo graced the wedding.
Rajinikanth says that he got an appointment although he was uncertain over whether she would accept his invitation. But to his surprise, Jayalalithaa told him that she would attend the wedding for which Rajinikanth calls her as "lady with a golden heart."
"She was like a diamond. Despite the pressure from a patriarchal society, she shone like one (diamond) and now she rests, like a Kohinoor diamond, besides Puratchi Thalaivar MGR's memorial," Rajinikanth hails her.
It is interesting to note that the duo patched up later and maintained a cordial relationship.