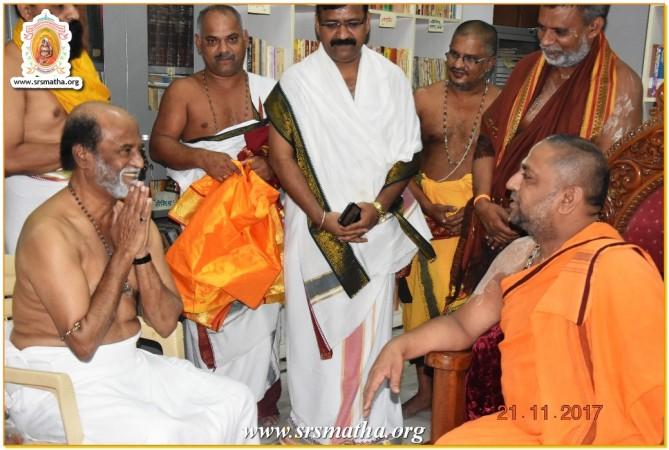 Rajinikanth, who is an ardent devotee of Raghavendra Swami, visited Mantralayam, located in Kurnool district in Andhra Pradesh, on Monday, November 20. The officials of the temple accorded him a grand welcome during his short visit to the mutt.
Sources say that Rajinikanth was at the temple around 6.30 am and prayed at Mula Brindavanam before taking the blessings of Sri Subudhendra Tirtha of the mutt. He spent close to one hour in the mutt and left the premises with his close aides at around 7.30 am.
The temple administration had a tough time in controlling the crowd, who wanted to get a glimpse of the Tamil superstar. Leading Kannada producer Rockline Venkatesh, who shares a good rapport with Rajinikanth, made arrangements for his trip and spoken to the temple authorities about Rajini's arrival.
The Lingaa producer ensured to make it a trouble-free visit for the Enthiran star, add sources.
Sri Subudhendra Tirtha blessed Rajinikanth and presented him an idol of Sri Raghavendra Swami, who was the 17th descendant in the lineage of Sri Madhwacharya and exponent of Dwaita philosophy.
Rajinikanth visits the mutt frequently and is a big devotee of Sri Raghavendra Swami ever since he starred in Sri Raghavendra, a biopic on mystic saint made in 1985. Notably, he has cultivated the habit of presenting the paintings of the saint to his guests whoever comes to his residence.
On the professional front, Rajinikanth is working on two movies – 2.0 and Kaala.