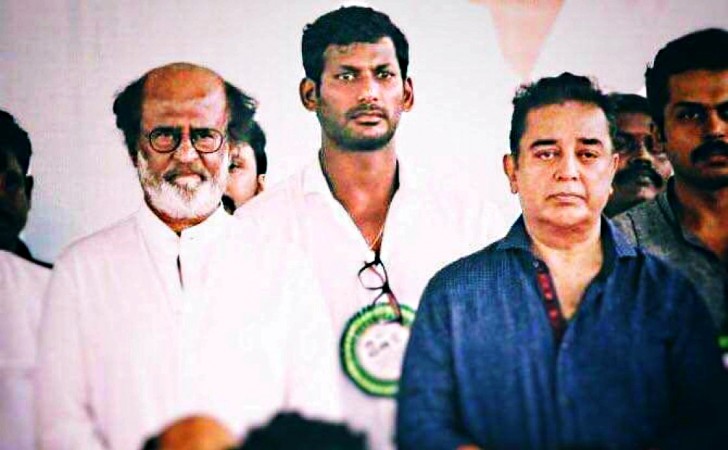 Rajinikanth and Kamal Haasan have come under attack from social media after actor Vishal entered politics without any hype. He has filed his nomination papers for the forthcoming by-poll in the RK Nagar constituency, which fell vacant after the death of Tamil Nadu Chief Minister J Jayalalithaa.
People have hailed Vishal for taking courage to contest the election and doing it without giving any hint about his plans. On the other side, Rajinikanth is yet to makeup his mind on taking a plunge into politics, while Kamal Haasan has announced his entry although he has not shared any concrete plans.
Rajinikanth has been giving hints about entering politics for over two decades. His desire to enter politics apparently got a new lease of life after the Jayalalithaa's death.
Earlier this year, Rajinikanth met the members from his fans' association and sent a message to them saying "be ready for the war." He will be reportedly having another round of talks with them in January 2018.
Kamal Haasan too decided to enter politics only after the death of Jayalalithaa. The actor, who had not given any hints about his political entry, took to Twitter to attack the ruling AIADMK. Months after posting cryptic tweets, he formally announced on his birthday last month that he would float a new political party.
Kamal Haasan has launched an app called 'Maiyyam Whistle' (meaning: whistle blower), but he has not opened up on his plans, his party, etc.
These unclear plans of Rajinikanth and Kamal Haasan have irked netizens, who have trolled them on Twitter. Many have created memes and slammed the two Tamil actors. Here, we bring to you selected-few tweets:
Gowrav‏: First of all we have to appreciate him for a very very bold attempt.
Winning or losing a contest is not matters. (1/2)#Vishal #RKnagar
He is far better than people who tweeting an unclear statements and creating a sensation among their fans for film promotions(2/2)
Its_me‏: #Vishal is far better than Rajnikanth and Kamalhaasan in some aspects , stepped directly into politics with guts & grit where some cowardice so called leaders doesn't possess. #RKnagarByElection