The political scene in Tamil Nadu turned filmy once again on Sunday as Rajinikanth and Kamal Haasan shared a stage but made it amply clear that they did not share the same political views.
What transpired at the unveiling of the Sivaji Ganesan memorial in Chennai on Sunday could well be the first glimpses of a rivalry that may have started on the silver screen but extended onto the political arena.
It could also be a mark of the things to come for Tamil Nadu, which has been in political turmoil ever since All India Anna Dravida Munnetra Kazhagam (AIADMK) chief J Jayalalithaa — aka Amma — breathed her last on December 5 last year.
The state has seen two chief ministers since then, while the AIADMK itself has been split in twain, thanks to former close aide Sasikala Natarajan alias VK Sasikala.
Ulaganayagan's leanings
Kamal Haasan may not have come out and said it outright, but he has a healthy dislike for the AIADMK in general and Jayalalithaa in particular because he feels she and her supporters had harmed the collection of his films over the years.
Speaking at Sunday's event, he said: "As a big fan [of Ganeshan], I would have come to the function even if I was not invited."
Haasan made his Leftist leanings clear when he met Kerala Chief Minister Pinarayi Vijayan. He also made his distaste for the BJP and the Congress clear when he chose to meet Delhi Chief Minister and Aam Aadmi Party chief Arvind Kejriwal.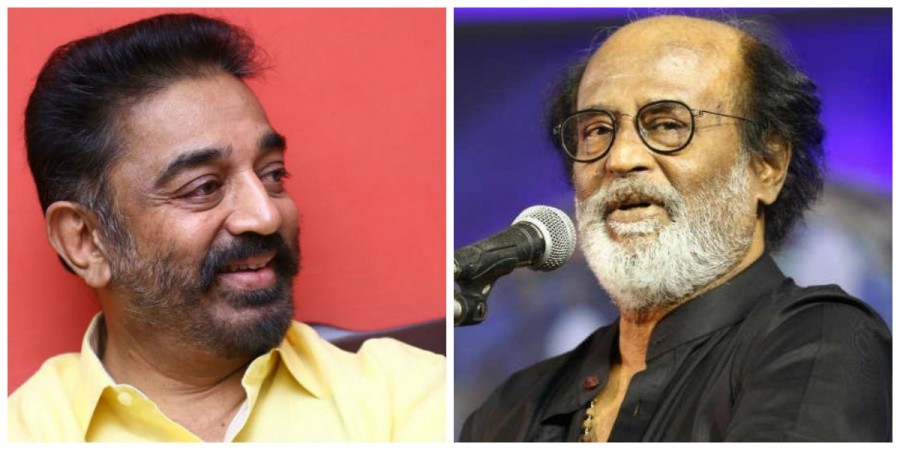 Superstar's sage words
However, Rajinikanth on Sunday chose to give Haasan a piece of advice instead of talking about the current situation in the state. "It takes more than stardom to be successful in politics," said the Kabali star, who himself has hinted at joining politics.
He also said: "Kamal knows what is needed, I don't. Maybe he would have told me that two months back. Now, he tells me to come along with him."
Rajinikanth may have been speaking from the experience of stars from other industries who did not fare so well in politics despite their popularity.
Two names that come to mind are Amitabh Bachchan, who had ties with the Samajwadi Party, and Chiranjeevi, who was MP on a Congress ticket, but failed to make an impact and has since made a comeback to films with Khaidi No 150.