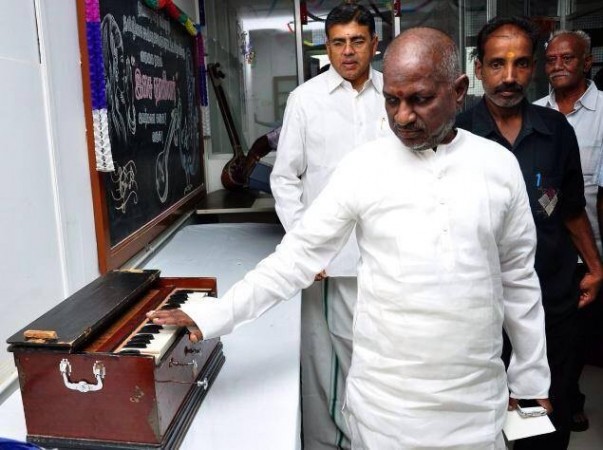 Rajinikanth and Kamal Haasan congratulated music maestro Ilaiyaraaja for being conferred with Padma Vibhushan, India's second-highest civilian honour. The government announced the prestigious Padma Awards on Thursday. January 25.
As per reports, Rajinikanth and Kamal Haasan called Ilaiyaraaja over the phone to congratulate him. Both the actors share a good relationship with the legend and have hailed his contribution to Kollywood cinema on many occasions.
This year, 85 distinguished personalities from arts, science, social service, public affairs, trade and industry, sports, education, engineering and medicine have been selected for the awards which are conferred in three categories - Padma Vibhushan, Padma Bhushan and Padma Shri.
Here is the complete list of winners:
Padma Vibhushan
Illaiyaraja
Ghulam Mustafa Khan
P. Parameswaran
Padma Bhushan
Pankaj Advani
Philipose Mar Chrysostom
Mahendra Singh Dhoni
Alexander Kadakin (Foreigner/Posthumous)
R. Nagaswamy
Ved Prakash Nanda (Overseas Citizen of India)
Laxman Pai
Arvind Parikh
Sharda Sinha
Padma Shri
Abhay and Rani Bang
Damodar Ganesh Bapat
Prafulla Govinda Baruah
Mohan Swaroop Bhatia
Sudhanshu Biswas
Saikhom Mirabai Chanu
Pandit Shyamlal Chaturvedi
Jose Ma Joey Concepcion III (Foreigner)
Langpoklakpam Subadani Devi
Somdev Devvarman
Yeshi Dhoden
Arup Kumar Dutta
Doddarange Gowda
Arvind Gupta
Digamber Hansda
Ramli Bin Ibrahim (Foreigner)
Anwar Jalalpuri (Posthumous)
Piyong Temjen Jamir
Sitavva Joddati
Malti Joshi
Manoj Joshi
Rameshwarlal Kabra
Pran Kishore Kaul
Bounlap Keokangna (Foreigner)
Vijay Kichlu
Tommy Koh (Foreigner)
Lakshmikutty
Joyshree Goswami Mahanta
Narayan Das Maharaj
Pravakara Maharana
Hun Many (Foreigner)
Nouf Marwaai (Foreigner)
Zaverilal Mehta
Krishna Bihari Mishra
Sisir Purushottam Mishra
Subhasini Mistry
Tomio Mizokami (Foreigner)
Somdet Phra Maha Muniwong (Foreigner)
Keshav Rao Musalgaonkar
Thant Myint – U (Foreigner)
V Nanammal
Sulagitti Narasamma
Vijayalakshmi Navaneethakrishnan
I Nyoman Nuarta (Foreigner)
Malai Haji Abdullah Bin Malai Haji Othman (Foreigner)
Gobaradhan Panika
Bhabani Charan Pattanaik
Murlikant Petkar
Habibullo Rajabov (Foreigner)
M R Rajagopal
Sampat Ramteke (Posthumous)
Chandra Sekhar Rath
SS Rathore
Amitava Roy
Sanduk Ruit (Foreigner)
R Sathyanarayana
Pankaj M Shah
Bhajju Shyam
Maharao Raghuveer Singh
Kidambi Srikanth
Ibrahim Sutar
Siddeshwara Swamiji
Lentina Ao Thakkar
Vikram Chandra Thakur
Rudrapatnam Narayanaswamy Tharanathan - Rudrapatnam Narayanaswamy Thyagarajan
Nguyen Tien Thien
Bhagirath Prasad Tripathi
Rajagopalan Vasudevan
Manas Bihari Verma
Panatawane Gangadhar Vithobaji
Romulus Whitaker
Baba Yogendra
A Zakia