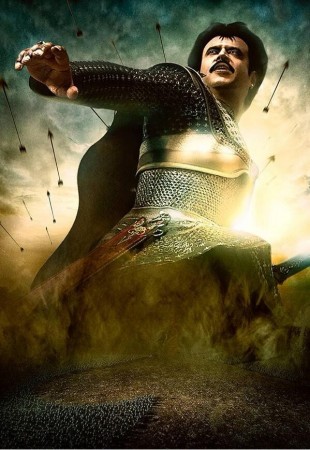 The teaser of Rajinikanth's "Kochadaiiyaan" has taken the internet by storm.
The teaser has received more than 10 lakh views in less than 30 hours. The overwhelming response towards the teaser has once again proved that Rajinikanth is the only superstar of Indian cinema.
The one-minute, 15-second teaser begins with the message, "There are heroes and superheroes. But there is only one Rajinikanth." The superstar makes an appearance as a younger and healthier warrior riding a horse and fighting on a battlefield. The video then shows Rajini walking in his unique style with dancers dressed like soldiers behind him. [To watch teaser, click here]
Rajinikanth could well be deemed as the only Indian actor to have acted in black-and-white, colour and now in 3D films. Even at the age of 62, he leaves audiences impressed with interesting performances. The actor holds a special place in the hearts of people, thanks to his simplicity.
It has been three years since fans have seen the superstar on the big screen. The actor appeared in a dual role in his 2010 blockbuster flick "Endhiran" ("Robot"), which was his last release. He took a break from acting due to health concerns that forced him to get hospitalised. After a speedy recovery, Rajini began working on "Kochadaiiyaan", which is his daughter's directorial debut venture.
A lot is riding on "Kochadaiiyaan", an epic drama that is reportedly made on a budget of over ₹100 crore. The film, produced by Sunil Lulla, Sunanda Murali Manohar & Dr Murali Manohar, is expected to get released on 12 December, on the eve of Rajinikanth's birthday.
The audio launch of "Kochadaiiyaan" will take place in October. AR Rahman has worked on the film's soundtrack, which he claims is an unusual project. The superstar has rendered his voice for a song in this film. In an interview to NDTV, Rahman said that Rajini does not sing in the film; the song is a semi-rap which the superstar's voice.
Directed by Soundarya Rajinikanth Ashwin, "Kochadaiiyaan" is India's first 3D film with motion-capturing techniques similar to Hollywood films "Avatar" and "Tin Tin". Unlike these Hollywood flicks, "Kochadaiiyaan" will have a run-time of 2 hours and four minutes.