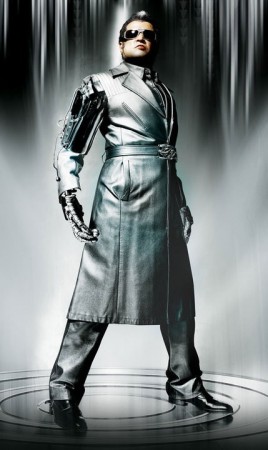 Superstar Rajinikanth is celebrating his 63rd birthday today (12 December). [Also Read: Most Popular Roles of Rajinikanth]
Rajinikanth will reportedly have a quiet birthday by spending time with his close friends in Bangalore. However, fans are likely to celebrate his birthday in a grand manner. They can also enjoy watching some of his classic films on the eve of his birthday. Chennai's Albert theatre will be screening Rajinikanth's films like "Pokiri Raja", "Paayum Puli", 'Murattu Kalai" and "Manidhan".
Born on 12 December 1950 as Shivaji Rao Gaikwad, Rajinikanth has worked as a bus conductor before he made his foray into films. He made his debut in Balachander's "Apoorva Raagangal", which was released in 1975.
The superstar began his acting career by playing antagonist roles in several films before being roped in to play the male lead. He has been part of several hit films and performed varied roles from villain to hero and comedian. This year, the actor completed 38 years in the film industry and still continues to impress the audience with his fantastic performances.
He commands a huge fan following worldwide and his films make big openings at the box office upon their release. Some of his notable films are "Endhiran", "Baasha", "Thillu Mullu", "Padayappa", "Annamalai", "Thalapathy", "Mullu Malarum", "16 Vayathiiley", "Sri Raghavendra", "Moondru Mugam" and "Billa" among others.
Despite his stupendous success in films, the superstar is known for his simplicity. He is a philanthropist and spiritualist.
The actor is all set make his comeback on the big screen with his daughter's directorial debut "Kochadaiiyaan". Rajinikanth was last seen in "Endhiran" ( "Robot"), the science-fiction film which catapulted him to the international league. After a span of three years, the superstar started his work in "Kochadaiiyaan". The film has been in the making for more than a year. The epic drama is touted to be India's first motion capture technology film.
Celebrities, politicians and fans of Rajinikanth have tweeted him wishes. Here are a few of their tweets.
Narendra Modi: "Birthday greetings to the superstar, Rajinikanth ji. Wishing him the best of health & a long life."
Radikaa Sarathkumar: "Happy bday to the one and only Rajinikanth , a wonderful human being.God bless."
Sreedhar Pillai: "Happy Birthday 2 the emperor of cinema #Rajinikanth, the 1 and only superstar."
TS Suresh: "Happy Burday #Thalaivar #SuperStar #Rajinikanth! My first super-hero on screen! Memorable Screenshot! Nostalgic! :-)"
Latha Srinivasan: "Wishing #Superstar #Rajinikanth a fantastic birthday! May God bless him with good health and many more superhits!"
Dr K Sathya Lakshmi: "Happy bday my Only SUPER STAR #Rajinikanth sir .. Love u more and more . God bless And u have to live longer."
KRRISHna Mehra: "Happiest Bday To my Idol My Inspiration My Guide My Demi God #Rajinikanth Sir..The Man Who changed me completely wid his Nature n Movies:-)"
Suganya Natesan: "It's really awesome.. It's our #thalaiva #Rajinikanth's bday.. Whr ever I turn around its thalaiva bday #wishes..Happiee bday #superstar!!"
Virendrasinh Rathod: "We want u to smile all ur life Wish u birthday thalaivarae #superstar #Rajinikanth."
Anuj Khandelwal: "To the man of masses, the Thalaivar, and the Superstar to us the crazy fans, wish you #HappyBirthday #Rajinikanth."