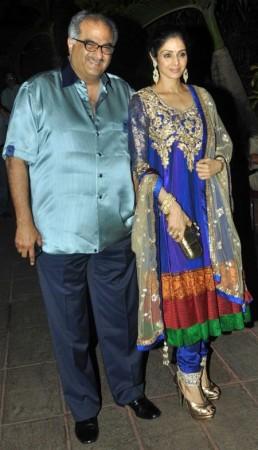 Superstar Rajinikanth and his entire family watched Sridevi's comeback film "English Vinglish" at a special screening in Chennai watched on Thursday.
The film, which marks the comeback of Sridevi after a gap of 14 years, was screened to a select few including Rajinikanth, Sridevi and Boney Kapoor, The Times of India reported.
The film is scheduled to hit the theatre on Oct. 5. The Hindi, Telugu and Tamil versions will be released simultaneously.
While Ajith Kumar plays a cameo in the Tamil version of the film, Amitabh Bachchan has played the same cameo role in the Hindi Version.
"English Vinglish" had a gala premiere at the prestigious Toronto International Film on Sep. 14, ahead of its worldwide release.
The film directed by debutante Gauri Shinde is about a Maharashtrian housewife (played by Sridevi) who registers herself for English speaking classes in order to make her husband and family happy.
It was reported that megastar Amitabh Bachchan, who made a guest appearance in the Hindi version, got emotional after watching the film.
"A viewing of English Vinglish directed by Gauri Shinde, wife of R Balki tonight, leaves me with collective lumps in the throat and a surge of flushed eyes near the tear ducts. And it is not all the emotion of a particular moment that puts one in such state. It is the uncontrollable effect of appreciation that prevents one from expressing any at all," Bachchan wrote on his blog.