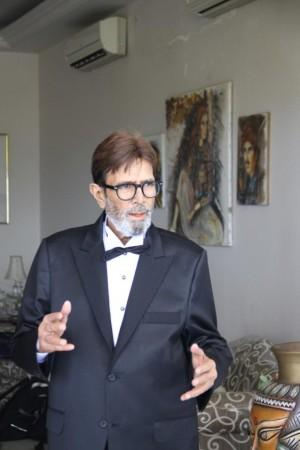 Rajesh Khanna's illustrious see-facing "Aashirwad" bungalow on Carter road, Mumbai, has now been renamed by his daughters and is sporting a new name plate with "Vardaan" prefixed before the old board.
"There is a new board outside the house. Kakaji had got the name made in silver lettering. The same font has been used for Vardaan which has been prefixed before Aashirwad," a source told the Times of India.
Apparently, it was Khanna's own wish to rename his iconic bungalow to "Vardaan Aashirwad" while he was alive. He purchased the house from yesteryear's actor Rajendra Kumar during his struggling days in the industry and lived there for around 40 years until his death.
"It was Kakaji's last wish. He wanted the name of the bungalow to be changed from Aashirwad to Vardan Aashirwad. However, it could not be done earlier due to his failing health. The name was finally altered only a couple of days back," a source told Mid Day. "He had conveyed his wish to his wife Dimple Kapadia and daughters and his son-in-law Akshay Kumar. That's how now one can see the new name on the bungalow."
The word "Vardaan" signifies something fortunate or godsend after much effort. The renaming was don by his doting daughters Twinkle and Rinke Khanna as per their father's wish.
Meanwhile, Khanna's one-time live-in-partner Anita Advani, who earlier laid claims to his property, isn't quite happy with the renaming of the house.
Reports said that she is "perturbed by the sudden name-change," and called it a "weird move" that makes no sense. She told TOI that "it would hurt Kakaji's soul," and that "Aashirwad was synonymous with his name."
"Kakaji's father had given the name as he felt whenever anybody writes to his son, he would benefit as Aashirwad means blessing," she said, adding that "the family has spoilt the name. It hurts me to see that his wishes are not being respected."
Recalling the late actor's sentiments about the house, Advani said, "Kakaji used to fondly remember and tell me how the bungalow was named Aashirwad."
She said that the bungalow was his "most prized possession" and the name "Aashirwad" was the "most favorite" name given by his father.
"He once mentioned that his father had said, 'You'll be a star and people will write letters and fan mail to you. Whenever they write your name on the letters, they will write the words - Rajesh Khanna Aashirwad. So in a way, they would always be giving you their Aashirwad (blessings).' That was the lovely thought behind the name," she said.
As per the superstar's last wish, the house will now be converted to a museum by his daughters and estranged wife Dimple Kapadia.
The veteran actor passed away on June 18, leaving behind a legacy of more than ₹2 billion.