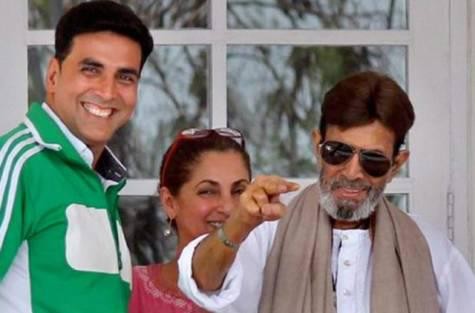 A month after superstar Rajesh Khanna died estranged wife Dimple Kapadia opened up about the actor at a three-day film retrospective which began on Aug 18.
During the event Dimple shared some of her views on Khanna and said that he was a very special man who was destined to be a superstar.
"I spent my life with him as I was 16 when I got married. He was not a normal man, he was a very special man," Dimple said on Saturday. "There are so many things I can say about him but what is very very special about him is that his DNA was that of superstar."
During his last days, Dimple took care of Khanna since the time he was admitted in Mumbai's Lilavati hospital. In a recollection of her last moments with him, the actress said, "In the last few days he said to me 'Pack up, the show is over'. He also said that 'I lived my life with lot of grace and please make sure that it lives forever'."
The retrospective of the late superstar was organized by the Directorate of Film Festivals (DFF) and the Ministry of Information and Broadcasting at the Siri Fort auditorium in Delhi, to pay tribute to the actor who passed away on July 18 after a prolonged illness.
The three-day event began on Saturday and will screen ten of his land mark films that put him on the path towards stardom. The films include "Aap Ki Kasam", "Aradhana", "Amar Prem", "Kati Patang", "Bawarchi", "Safar", "Aakhri Khat", "Ittefaq" and "Anand".
Dimple was accompanied by younger daughter Rinke Khanna during the inaugural function, where she thanked the organizers for screening Khanna's land mark movies for his fans.
"I like to salute his each and every fan for having made this possible. I think the one thing that he would have said if alive today to his fans is - humein tumse pyar kitna yeh hum nahi jaante, magar jee nahi sakte tumhare bina," she said during the event.
"I would like to thank DFF and the information and broadcasting ministry for having this retrospective. Thank you for giving a chance to relive his memories," she said.
Khanna married Dimple in March 1973, just before the release of the actress' debut film "Bobby". After nine years of marriage the couple parted ways but did not complete divorce proceedings.