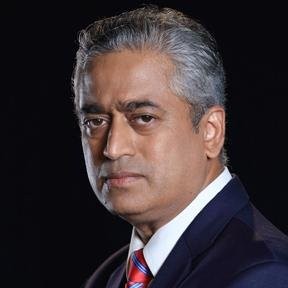 Senior journalist Rajdeep Sardesai, who was at the centre of a widely publicised controversy after his scuffle with a group of Indians outside the Madison Square Garden in New York, has blogged about the incident aiming to put the 'events of the day in context'.
This is also the first time Sardesai said that he 'deeply regretted' the incident and that the scuffle was an "unfortunate response".
"Over the last week, several versions have appeared on an unfortunate incident at Madison Square Garden...Through this period, I have chosen to remain mainly silent because I didn't want to add to the noise that has prevented any rational explanation," Sardesai wrote in his blog on Friday.
Sardesai said that his aim was to 'capture the mood' of the people outside Madison Square Garden ahead of Modi's speech on 28 September.
However, he said there was a small section of the crowd that targetted him. "I had gone to the event with hopes of goodwill. The volley of name-calling was unrelenting and shocking to me," Sardesai said.
"Sadly, a small group of people began to heckle and abuse us. For a long while, I smiled and shrugged this off and even tried to strike up a conversation to ease the tension," Sardesai wrote.
"After a while, the heckling reached a stage where we had to stop the broadcast as the crowd began to push and jostle. I was abused in terribly foul terms, my family was called names and I was kicked in the shins. The pushing and jostling continued even as I tried not to engage," he recounted.
Sardesai, for the first time, said that he regretted his action of getting into a scuffle, stating that 'no amount of provocation justifies a physical response'.
"I saw someone heckle me again and I lost my patience. I uttered an expletive and lunged at the person. It was an unfortunate response and one which I deeply regret. Whatever the provocation, there is no excuse for me to have got into a scuffle," Sardesai blogged.
"In over 26 years of journalism, I have endured a variety of situations but have always maintained my dignity and composure. No amount of provocation justifies a physical response," he said.