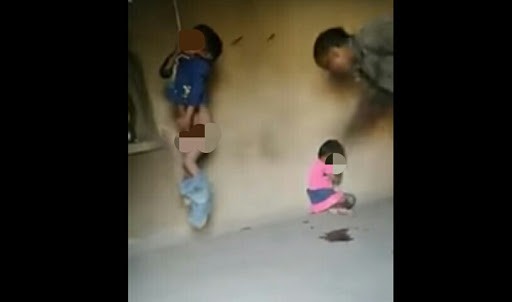 The incident took place on Sunday in Rajsamand's Phukiyathar village in Rajasthan. While the allegedly abused his kids, his brother shot the video that later went viral on social media.
Barbaric punishment
In the video, the father, identified as 32-year-old Chain Singh is seen hitting his five-year-old son with a cane. The boy is hanging from a rope, which is tied around his chest and his pants are pulled down.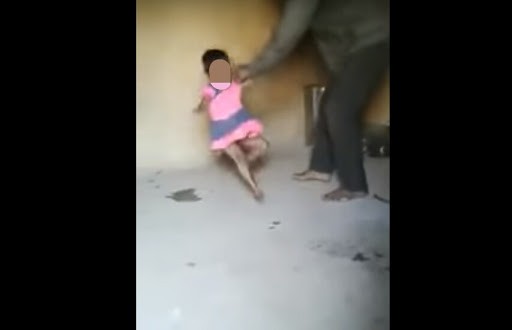 Singh is also seen caning his four-year-old daughter. He continued to thrash them even as they howl with pain. At one instance, the girl tries to run away but Singh throws her on the ground and strikes her a few more times.
The video was recorded by Singh's brother, who later circulated it on the social media.
'Was trying to scare them'
Singh, who was arrested on Tuesday, told the police that he was just trying to scare them for their mistakes. Police have also arrested his brother.
"He said he was beating them because they used to eat mud and defecate in the pants. The video was shot by Singh's brother," Mangi Lal, additional sub-inspector at Deogarh police station was quoted as saying by the Hindustan Times. Lal also said that Singh has four daughters and a son.
The Child Welfare Committee (CWC) visited the house to assess the situation. Bhavna Paliwal, the president of CWC said: "He (father) had beaten them ruthlessly. The kids have marks all over their legs. Their father said he was only trying to scare them. Who scares kids like that?"
"The man is not accepting his mistake. He keeps saying that he was doing it only to scare the children," she added. The police are also questioning Singh's wife as she was present when her husband was caning the children.
Both Singh and his brother have been booked for cruelty to children and voluntarily causing hurt among other charges.