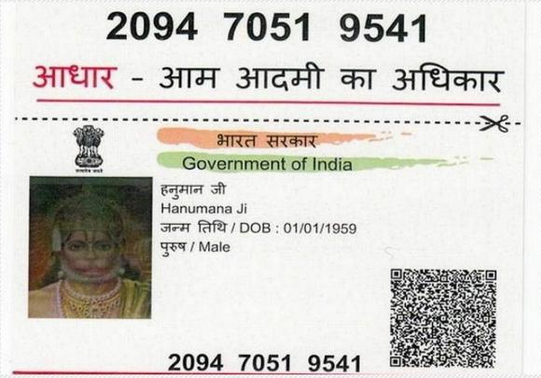 Lord Hanuman from India's mythological epic "Ramayana" has come alive with an identity proof in the form of Aadhar Card that contains his biometrical details along with his father's name, "Pawan Ji" and his photograph with a crown and pearl jewellery.
The unique identification card has been registered with the number 209470519541 in the name of Lord Hanuman, who according to the card has a home address, a mobile phone number and also the thumbprint.
The postman Heera Lal had to struggle to find the actual recipient of the ID card, but after four days the postal department found that it belonged to a computer operator Vicky Kumar.
"When postman Heera Lal received the card for delivery, he was shocked and brought the matter to the notice of senior officials. When they tried calling the number, it was switched off," The Times of India quoted postmaster Gobraj as saying.
Kumar said that he had to apply for aadhar card in the name of Lord Hanuman, as he failed to get one, despite several attempts, because his finger prints were not accepted. However, after finally receiving his Aadhar card, he refused to accept it.
"I tried three or four times to get an Aadhar card made, but my finger prints were not being accepted, so I applied in the name of Hanuman and I gave my address and phone number," NDTV quoted Kumar.