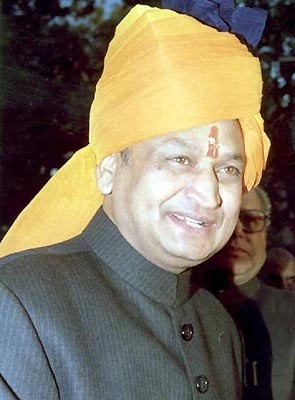 The Congress government in Rajasthan has been shaken up with sexual assault allegations against its ministers and legislators, even as the party rolled out a developed agenda in the run-up to the state assembly elections this year.
A day after Rajasthan Food minister Babulal Nagar resigned on 19 September over rape allegations against him, the government announced plans to set up the world's largest solar power plant near Sambhar Lake, 75 km from the Jaipur capital, with the total electricity generation capacity of 4000 MW.
The Union Cabinet approved a public-private venture between Hindustan Petroleum Corporation Limited (HPCL) and Government of Rajasthan for a refinery-cum-petroleum project in Barmer district, one of the most industrially backward districts in India.
"The proposed refinery will be a subsidiary of HPCL with its equity of 74 percent to be held by HPCL and 26 percent to be held by the Govt. of Rajasthan. The cost of the project is estimated at ₹37,230 crore,"
According to Chief Minister Ashok Gehlot, the project is expected to bring an overall investment of ₹60,000-₹70,000 crore in the Pachpadra area of the district, putting it on an equal footing with Dubai.
On 21 September, Congress supremo Sonia Gandhi along with PM Manmohan Singh laid foundation to both projects.
On the very day, Congress MLA Udai Lal Anjana was booked in a sexual assault case. While Ajmer Police were filing an FIR against the MLA from Chittor, Gandhi and PM Singh laid foundation for the next phase in Jaipur Metro Rail project. The Rajasthan government also approved a Metro project in Jodhpur, the second largest city of the state.
Singh also laid foundation to another major developmental project in the state - the Kishangarh airport. Currently Rajasthan has five functional domestic airports, out of which the one in Jaisalmer is seasonal.
"Kishangarh airport today as a fully functional airport development project has been laid. It is a project development in the area will create lots of new possibilities," Singh had said in his speech.
However, with two former ministers, Mahipal Maderana and legislator Malkhan Vishnoi, in jail for nearly 18 months on charges of kidnapping and murdering a nurse, ministers Nagar and Anjana have put the Ashok Gehlot government in the dock.
And the opposition Bharatiya Janata Party (BJP) is unlikely to lose any chance to rake up these issues in a big way for the upcoming polls.
Nagar, who was pressurised by his own party to resign, skipped his medical examination on Thursday, claiming that he was 'physically and sexually fit'. The minister was booked in a rape case on 17 September.
"All these cases coming up before state assembly elections do not augur well for the Congress party which already is fighting anti-incumbency," political analyst MK Sharma told IANS. He added that Gehlot will have to face an uphill task during the assembly polls "as he is not only fighting the anti-incumbency factor but is also trying to fight with tarnishing of image of his ministers".