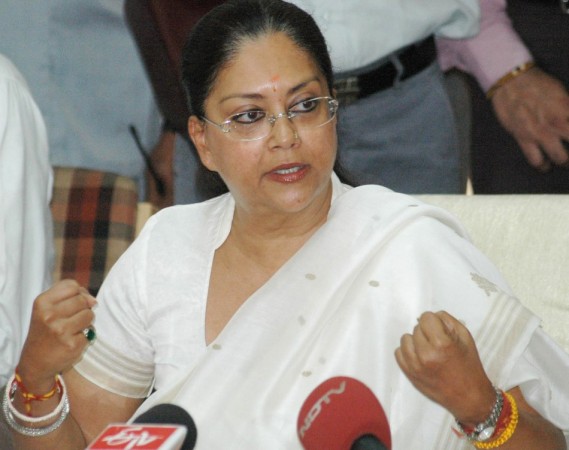 While celebrations have begun at the Bharatiya Janata Party (BJP) headquarters in Jaipur after a landslide victory in the western state of Rajasthan, Congress leader and CM Ashok Gehlot accepted his defeat in a press conference.
"We campaigned on basis of development. In every sector we tried to provide services to the people, so much so that we did not expect a defeat. We made attempt to win on that basis and they (BJP) lied to the people on several occasions. The kind of communal parties trying to succeed in politics it is very dangerous for the country," Gehlot said on Sunday.

The early rounds of counting of votes have shown a massive lead for BJP with 161 assembly seats out of a total of 199, and the Congress' share reduced to 23 seats from the 96 won during the 2008 elections.
"I want to thank the people of Rajasthan and the workers of BJP who have worked so very hard," said BJP's Vasundhara Raje, who enjoyed the post of Rajasthan Chief Minister from 2003 till 2008.
In 2003, BJP formed the government in Rajasthan with a majority of 111 assembly seats. Her party's hold in the state assembly was reduced to 78 seats during 2008 polls.
Interestingly, the people of Rajasthan continued the 20-year old trend of not letting a party win back-to-back in the state since 1993.
In the assembly polls held on 1 December, 74.38 percent of voter turnout was recorded by the Rajasthan Election Commission.
When Raje was asked what contributed to her party's victory, she told ANI, "People of Rajasthan were tired of non-governance of Rajasthan government. The credit for this win goes to them. Of course, Modiji has been very big factor. He gave back pride to the people of Gujarat. He has shown that the model can be spread at other places."
BJP prime ministerial candidate Narendra Modi posted on Twitter, "Spoke to Vasundhara ji & congratulated her for the historic victory of BJP in Rajasthan Vidhan Sabha elections." BJP president Rajnath Singh was also quick to congratulate Raje on her victory.
Later Raje added, "Yeh toh trailer hai, aaney vaali sarkar ka trailer hai. (This is just a trailer for the future party that will form the Central government)."