The Congress government in Rajasthan faced embarrassment on Friday as Chief Minister Ashok Gehlot mistakenly read the excerpts of the previous year's budget instead of Budget 2023-24.
The massive goof-up prompted uproar in the Legislative Assembly as BJP members charged the government with adopting a casual approach towards such a serious matter as the budget. BJP members protested and the assembly proceedings got disrupted.
Speaker of the Rajasthan Legislative Assembly CP Joshi expunged the proceedings from 11 am to 11.42 am. He said whatever happened was unfortunate. Human errors happen and are rectified.
The Speaker directed opposition members to maintain the dignity of the house and the sanctity of the budget but the opposition members continued their protest.

Proceeding resumed in Assembly after CM apologized
Proceedings of the Legislative Assembly of Rajasthan were House after Chief Minister Ashok Gehlot apologized for reading the old budget. "It happened mistakenly. I feel sorry for that", he said.
"Opposition can point out only if there's a difference between what's written in the budget in my hand and its copies were given to the House members. If a page was added to my budget copy by mistake, how does the matter of leaking of budget arise?", he asked.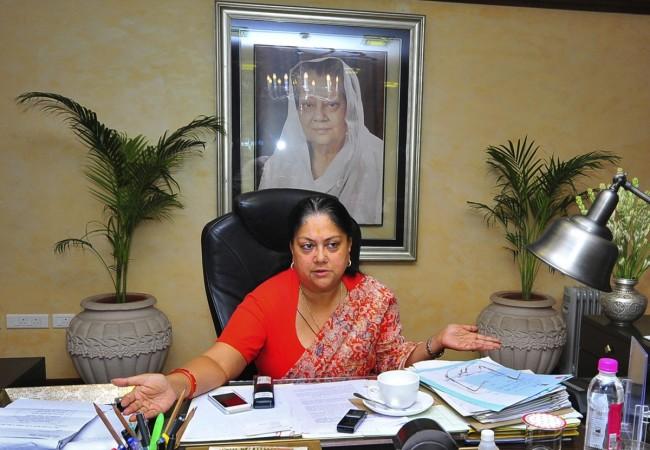 "Sheer callousness," says former CM Vasundhara Raje
Seizing the opportunity to attack Chief Minister Ashok Gehlot, BJP leader, and former Chief Minister Vasundhara Raje termed it as "sheer callousness".
"It happened first in the history of Rajasthan. When I was Chief Minister I used to read and check the budget two, or three times. How can a person miss to cross-check such an important document?", she asked, adding "I am sorry that Rajasthan is unsafe in the hands of such rulers".
"For eight minutes Chief Minister continued to read last year's budget", she pointed out, adding, "No Chief Minister comes with papers like this. What will happen to the state if the Chief Minister does something like this".
गजब बे-सुध रहते हैं गहलोत जी, इस साल के बजट का चुनावी प्रचार किया और पढ़ने लगे पुराना बजट!

जनता कुशासन से फैले अंधकार में राहत की रोशनी की सोच रही थी यहां मुख्यमंत्री की बत्ती ही गुल हो गई।

समझ नहीं आ रहा, हंसे या रोएं!#RajasthanBudget pic.twitter.com/3n9vGIMowU

— Gajendra Singh Shekhawat (@gssjodhpur) February 10, 2023