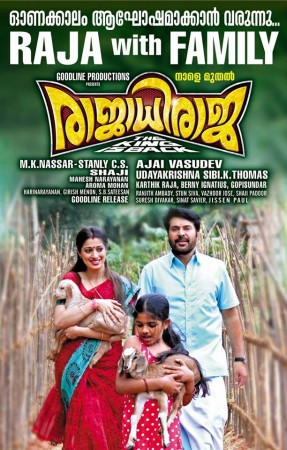 "Rajadhi Raja" is one of the most awaited mass entertainers of the year.
Looks like the film has managed to please the audience and is said to be a highly engaging film by most of the reviewers.
"Rajadhi Raja" is directed by debutant Ajay Vasudev and is scripted by Udhayakrishna – Siby K Thomas. The film has Raai Laxmi, Siddhique, Joy Mathew, Lena, Joju George, Mukesh Khanna and Taniya Stanely in the lead roles and Unni Mukundan and Shamna Khasim in cameo roles.
The film's cinematography was handled by Shaji and editing by Mahesh Narayanan. The film is produced by M. K. Naseer under the banner of Goodline Productions.
Plot: The story is about Shekarankutty (Mammootty), who is a common man, leading a happy family life with his wife (Raai Laxmi) and his daughter. The movie takes a turn when his past is revealed and how that changes his life forever. In his past, Shekharankutty had led a very brutal life and was a notorious don Rajashekhar. Things become more difficult for him when his family gets pushed into all the troubles. The rest of the film revolves around how Shekharankutty saves his family from his enemies.
Here are the reviews of "Rajadhi Raja" by various critics
Muyals. Com - "Considering a debut film Ajay Vasudevan did an outstanding job. He can be counted as one of the promising debutante directors in 2014. It has been a while since Mammootty was seen in such a massive appearance. While being humble common man who strives to survive in Shekharan Kutty; Rajashekhar is a fearless and ruthless mob boss. Mammootty's precise dialogue delivery is simply awesome. Raai Lakshmi and Mammootty chemistry proves to be good once again. It is rejoice to see them together once again after Annan Thampi. The supporting cast Siddique,Joy Mathew and Lena is brilliant and did their part quite well.'
"Editing by Mahesh Narayanan deserves special mention. The cuts were so good that the movie never went out of its flow and grip. The beauty of rural area in the outskirts of Kerala-Tamilnadu border and Mumbai is scooped by the cinematographer Shaji. The movie is one of a kind mass masala entertainer considering the way of portrayal and progress of the story line. Rajadhi Raja is a one man show".
Desimartini.com - Ajai Vasudev has done a good job with the direction, music by Karthik Raja and Berny Igantius goes well with the movie, Gopi Sundar's background score is good. The Rajadhi Raja chant and Swami Ayyappa chant go well with the scenes. The stunts look classy. The one item number-cum-family song is well choreographed. I particularly loved the locations which are referred to as Chitoor in Palakkad, it's a beauty. Siddique, Rahul Dev and others have a played the supporting roles well. Blink and you will miss Unni Mukundan's cameo.
Onlookersmedia.com – "The comedy sequences of the movie are perfectly timed and are up to the mark. To top it all, there are numerous scenes in the audience open mouthed and shocked. Ajay Vasudev as showcased his talent in his first directorial venture itself as his creative genius is clearly visible in the movie. To sum up, the movie is an interesting story in an interesting way".