Comedian Sharan, who made a successful debut as a hero in "Victory", is set to star in his fourth movie in the lead role with "Raja Rajendra".The movie is a mythological-comedy, which features Ishita Dutta in the female lead role.
"Raja Rajendra" is directed by Pon Kumaran of "Only Vishnuvardhana" fame. He is also credited as the co-writer of superstar Rajinikanth's recent movie "Lingaa". Coming back to the latest movie, he has churned out a fresh story for Sharan.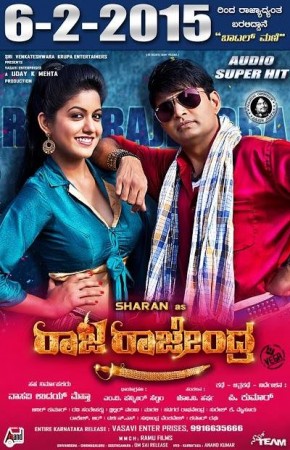 Pon Kumaran and Sharan have previously worked in "Jai Lalitha", a remake of Malayalam movie "Mayamohini". The actor's performance had impressed the audience even though the movie did not live up to the audience's expectations.
Now, the duo is trying to make a better impact than their earlier movie. The latest flick "Raja Rajendra", which is produced by Uday K Mehta of "Bachchan" fame, has Arjun Janya's songs and Panner Selvam's cinematography.
Cast members include South Indian actress Vimala Raman, who has done an extended cameo, Ramakrishna, Sadhu Kokila, P Ravi Kumar, Neenasam Ashwath and Tabla Nani. Find viewers' tweets below:
Shankar Ganesh Wrote
#RajaRajendra - Interval. ... fully entertaining so far...#Sharan
#RajaRajendra - Interval. ... throughly enjoyed the scenes...#Sharan
Shyam Prasad Posted
#RajaRajendra 3.5/5 nonsensical but entertaining.
Shashiprasad SM Wrote
#RajaRajendra Its 'Laughter Bottle' My take a silly 3*
Cineloka Tweeted
Sharan , @ishidutta #RajaRajendra - Interval. Too good so far. More importantly movie has very good situational humorous scenes
#RajaRajendra - Entertains ppl frm scene one to the last. Non stop comedy entertainer. @sharanhruday gives another hit. 3.75/5. @ishidutta
*** RAJARAJENDRA 1ST HALF REPORT *** - Comedy King Sharan's Best Performance Till Date. Perfect Birthday Gift...