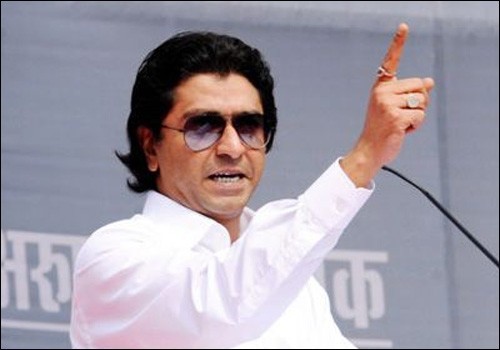 Maharashtra Navnirman Sena (MNS) chief Raj Thackeray on Sunday drew another controversy after he warned of a ban on Hindi news channels for misquoting his speeches and statements.
Speaking at a convention of Party workers on Sunday, Thackeray lashed out saying, "People from Hindi channels dole out news without understanding the issue. Such channels should discontinue doing this, otherwise we will do what we can to stop this game."
He claimed that his speech was distorted by Hindi channels to increase their TRPs. "Do not try my patience... Try to understand what I say, if you do not understand it, ask (others)... (Otherwise) you will know what I can do," he threatened. He also added that he knew the law and that threats directed at him in the name of law and order don't scare him.
The Broadcast Editors' Association (BEA) has asked Maharashtra government to provide securities to Hindi channels. BEA also said Thackeray's threats against Hindi news channels were an 'assault on roots of democracy'.
"We take serious note of threats given by the MNS Chief against Hindi news channels and feel that this is not a threat held out against media but an assault on the roots of democracy," said BEA according to Press Trust Of India.
Thackeray's warning to shut down Hindi channel networks came at a time when political parties across the country are still reeling in anger over his anti-Bihari statements. On Friday Thackeray made a remark on Biharis by threatening to "declare all Biharis as infiltrators and drive them out of Mumbai".
His remarks were in response to a letter written by Bihar police to Mumbai Police Chief who expressed displeasure over the arrest of Abdul Qadir Mohammed Younus Ansari from Sitamarhi village for his alleged involvement in damaging the Amar Jawan Memorial near Azad Maidan earlier in August.
On Sunday, Bihar chief minister Nitish Kumar slammed the Center and the Maharashtra government for not taking any action against Thackeray's anti-Bihari jibe. He condemned the government and asked whether the Mumbai police and the state government have given the governance to Raj Thackeray.
"The MNS chief's diatribes against Biharis pose a challenge to all governments to deal with a person who has been holding out threat to the migrant people. People have the constitutional right to live and work in any part of the country," Kumar told reporters.