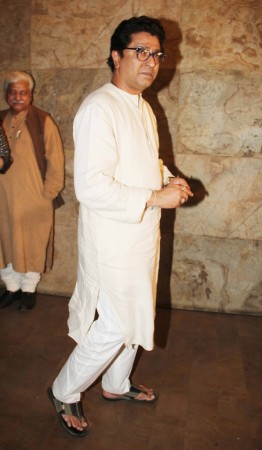 Peeved at a cartoon drawn by Raj Thackeray that pokes fun at PM Narendra Modi and BJP chief Amit Shah for the party's ignominious defeat in the Delhi Assembly polls, the BJP has asked Maharashtra Navnirman Sena chief (MNS) chief to quit politics and become full-time cartoonist.
The cartoon shows Narendra Modi and Amit Shah as twin towers that have been hit and left burning by a small aircraft that resembles Aam Aadmi Party convenor Arvind Kejriwal, and is named "ATR Jadoo".
It also shows US president Barack Obama watching it on television in his office and saying, "It is the twin towers once again, and the aircraft is safe."
The BJP had projected Obama's recent visit to India as an achievement during campaigning.
The cartoon drawn by Thackeray – who is a cartoonist by hobby and has openly spoken about his admiration for Modi – appeared in a Marathi newspaper on Thursday.
It has obviously angered the BJP.
"Raj Thackerayji has found a way to hog limelight (after his party's poor show in Maharashtra Assembly poll). His cartoon has grabbed attention. (He) should do it full-time," PTI quoted Mumbai BJP President Ashish Shelar as saying.
BJP spokesperson Madhav Bhandari said that this was Thackeray's way of hogging the limelight. "Raj Thackeray seems to be in a wishful thinking mode. It is amusing that he has time to draw such cartoons despite running a political party. I hope he gets time for more such cartoons. It seems that he (Thackeray) is compelled to draw such cartoons to stay in news, which is hilarious," he said.
Earlier, Raj's cousin and Shiv Sena chief Udhav Thackeray had said that the BJP's defeat proved that "Delhi tsunami bigger than Modi wave."
His party's mouthpiece 'Saamna' had ridiculed the BJP, saying,"The BJP, which won a resounding majority in the Lok Sabha elections has been turned into 'dirt' by the 'broom- wielding' Aam Aadmi Party."